On 5 May, 300 illuminated drones depicting a flock of starlings hovered above Rotterdam. This symbol of freedom and hope from Studio DRIFT and Mothership was a sign of encouragement and support for all Rotterdammers. Residents were able to watch the spectacle via a live stream on TV and online, and were, therefore, still brought together on Liberation Day. It's no coincidence that the artwork was on display in the city where Erasmus MC is located. The project said 'Hang in there' to all healthcare personnel in the Netherlands.
A flock of starlings
Franchise Freedom is a well-known artwork by artist duo Studio DRIFT, which has already been seen in various places around the world. For example, at the Burning Man Festival in the United States. Lonneke Gordijn, Studio DRIFT: 'The aerial artwork consists of hundreds of illuminated drones, flying through the air like a swarm. They mimic the flight pattern of a group of starlings, it's like a ballet in the air.'
Symbol for freedom
Liberation Day was celebrated differently this year because of the corona crisis. Public events and activities were cancelled. Lonneke Gordijn: 'We considered how we could contribute at this time. The Franchise Freedom birds that fly above the earth symbolise freedom. The project fits so well with 5 May that we decided to offer our artwork to Rotterdam. A physical experience for the city in this strange time.'
Realising an art project
To be able to realise the project in just two weeks, the artist duo turned to Mothership. The Rotterdam organisation realises art projects in public spaces and is responsible for projects like the Markthal ceiling and the illuminated Fire Boundary in Rotterdam in 2007.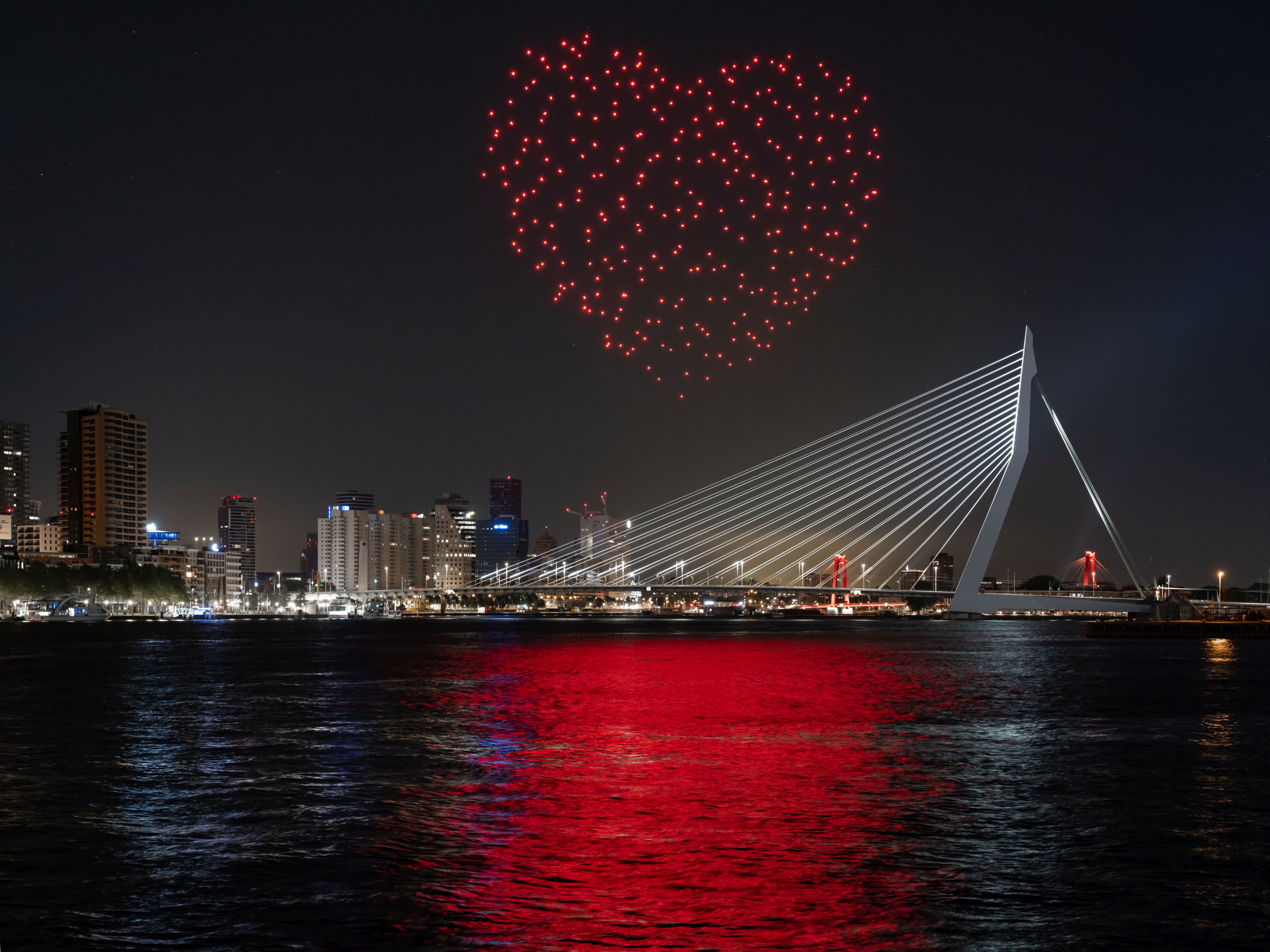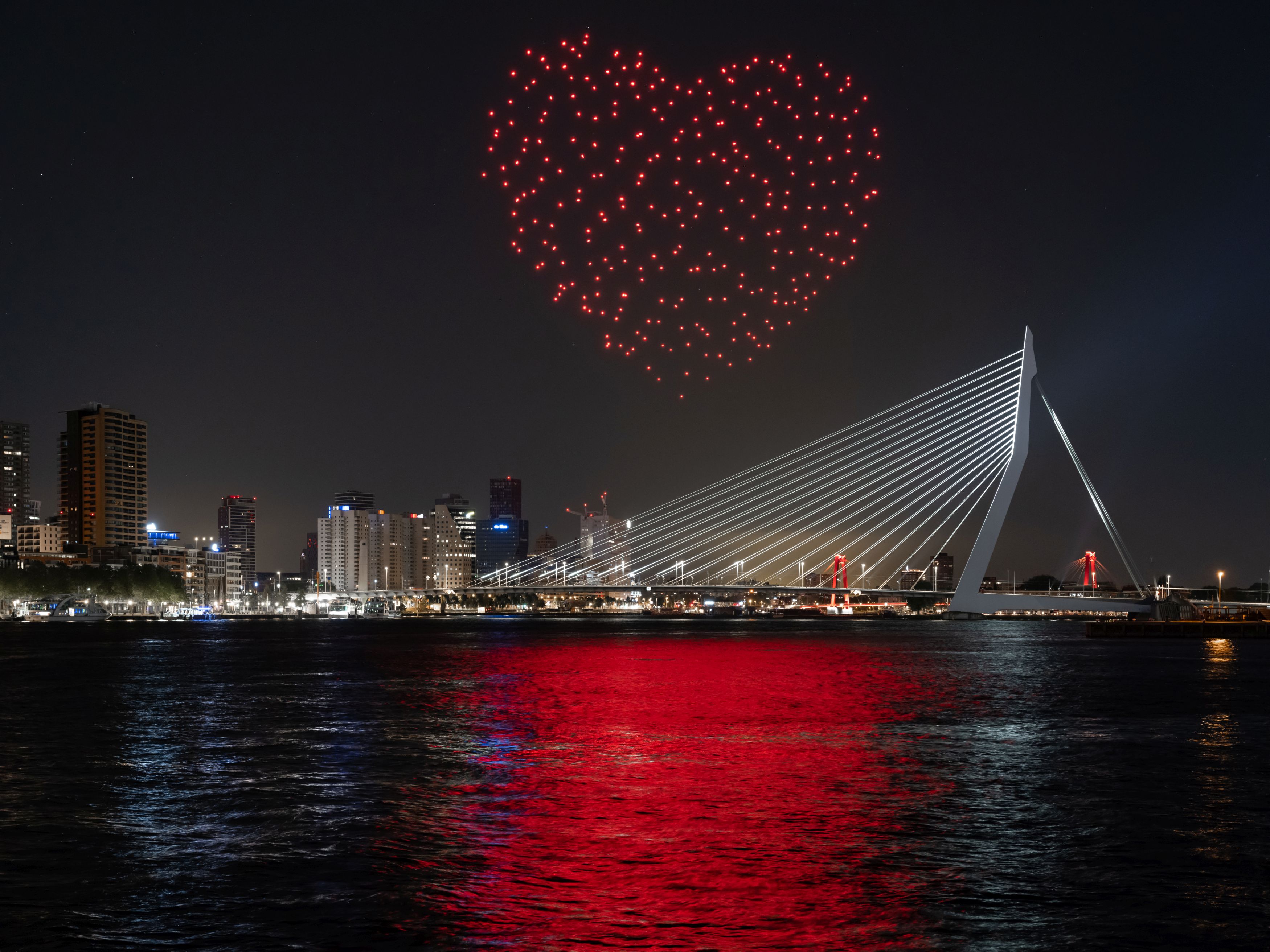 Two weeks
Mothership and Studio DRIFT have known each other for years. Jeroen Everaert, founder of Mothership: 'When Studio DRIFT asked us to help, we were immediately enthusiastic. We know our way around Rotterdam and are experienced in arranging large projects. Besides, we've wanted to collaborate with the artist duo for some time. We made our decision quickly: now is the time to join forces.'
Moving mountains in corona time
The parties submitted the project directly to the municipality, and although it was quite complex to organise, it was instantly approved. Jeroen Everaert from Mothership: 'I'm proud that it was possible. The municipality cooperated, and we realised it in two weeks. You notice that systems are being put aside at this time. People act based on trust, which means things can be done faster and more efficiently than usual.' Lonneke Gordijn: 'I really enjoyed the dynamics of this project. Normally people are more concerned with their own things and now there's a sense of collaboration. I want to work with that energy more often.'
Rotterdam is the perfect location
Lonneke Gordijn: 'Rotterdam was the perfect location for several reasons. Of course, because of its skyline with iconic buildings, but also because there is a lot of space. And Erasmus MC is also located in this city – a recognisable place responsible for the coordination of all ICs in the Netherlands at the moment. Rotterdam was also hit the hardest in the Second World War, and is, therefore, a good fit for 5 May.' The fact that the city embraced the project also helped. Jeroen Everaert: 'Rotterdam is known as a city that gets things done. A lot is possible. We wouldn't have been able to carry out this project elsewhere.'
Music by Joep Beving
Studio DRIFT regularly collaborates with composer and pianist Joep Beving. His music could also be heard during the drone show. Lonneke Gordijn: 'The music has a certain feeling that fits very well with what you see happening in the air. Joep also played at Erasmus MC during the day. This project is our way of saying thank you to the people of Rotterdam, and in particular to the people who are fighting for us, and offering them our encouragement and support.'
Text by: Renee Schouwenburg
Header photo: Ossip van Duivenbode