Furniture designer Luka Wasch graduated last year from the Hout- en Meubileringscollege (Woodwork & Furniture College) in Rotterdam, winning the Baars & Bloemhoff Talent Award with her unorthodox graduation project. In that same year, she made an appearance at Dutch Design Week with the same 'graduation tables', and she is also one of a select group of students chosen to attend the prestigious Salone del Mobile in Milan next year.
Having graduated with great gusto, Luka looks back on a special time at the Hout- en Meubileringscollege (HMC), situated on the Melanchtonweg in Schiebroek. After all, that is where it all started for her. Luka tells her story; the opportunities she enjoyed at the HMC, the way the teachers coached her and what Rotterdam means to her.
A piece of furniture without a function
Luka caused a furore last year with her graduation project. She crafted two small tables that aroused not only the interest of many teachers, but that of several designers as well: 'I wanted to find out whether I could make a piece of furniture that no longer functioned as furniture; searching for the limits of furniture and its functionality. I therefore decided to make two little tables in an oblique design. The tables may look like tables, but the tops slope so much that you cannot put anything on them. This raises the question of when a table is still a table'.
Through her furniture, Luka interpreted her education along fairly conceptual lines, whereas the HMC is primarily a practice-oriented school. The HMC, however, managed to allow sufficient leniency for this creativity: 'Initially my teachers were rather sceptical, because the world of furniture-making is mostly about producing things that serve a purpose. Nevertheless, they supported my idea fully, as well as providing invaluable assistance throughout my project. As long as the work complied with the examination requirements, it was all right'.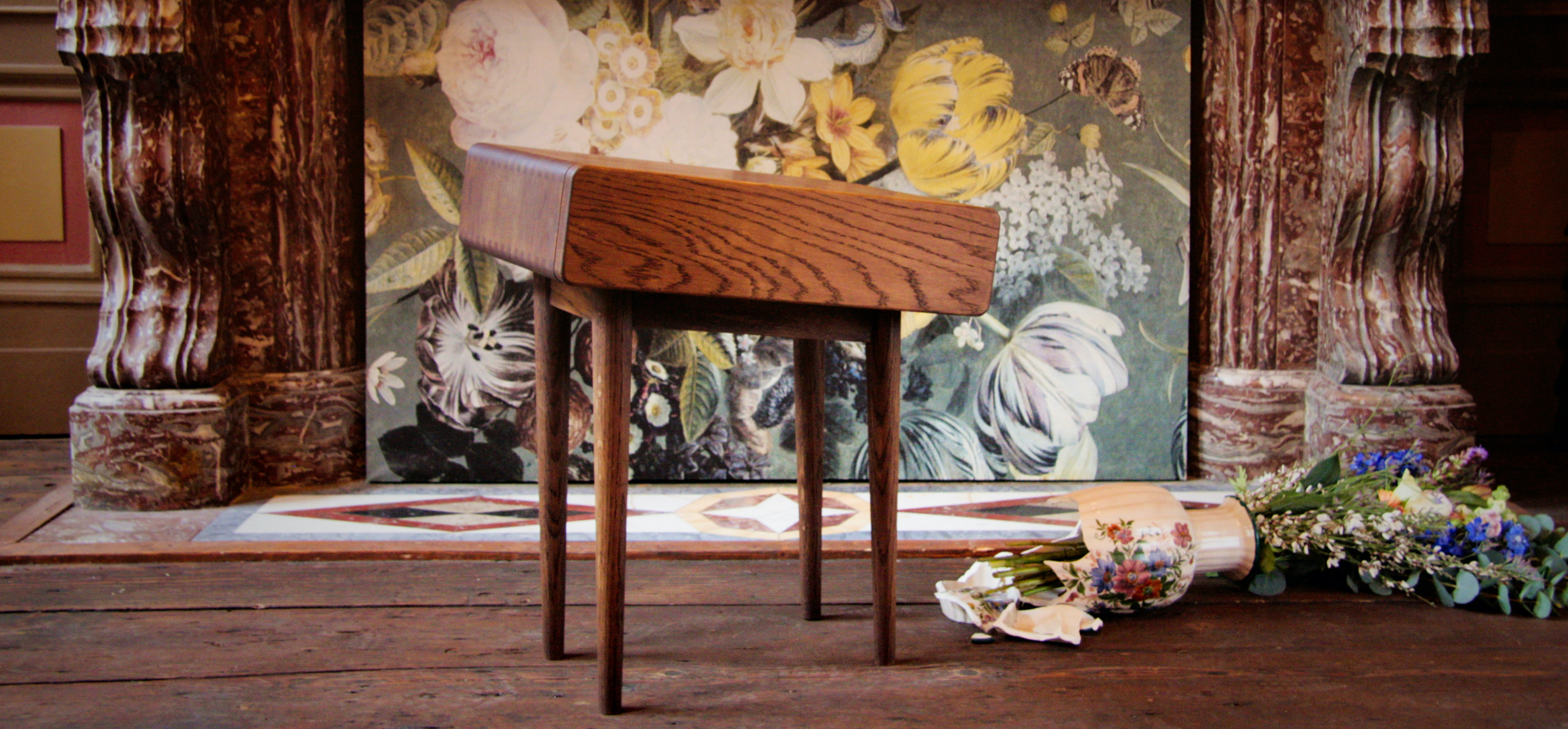 Salone
Luka has ultimately capitalised on her idiosyncratic project; in 2021 she will feature with a select group of her co-students at the Salone del Mobile , the world's most prestigious furniture & design show in Milan. The Salone opens the door to huge opportunities, and this is where Luka hopes to find a producer for her tables. The group was originally due to attend the Salone in 2020, but that edition has unfortunately been cancelled due to COVID-19.
As well as being one of the most important design shows in the world, The Salone del Mobile, is also the largest. Every year, the show attracts 370,000 people from 188 countries. A presentation at the Salone can therefore have a tremendous impact on the career of a designer, says Miranda van der Veere, head of Marketing & Communication at the HMC: 'We frequently see that students who are able to have their product manufactured thanks to exposure at the Salone in Milan are eventually able to start a professional career. The fair provides massive opportunities and can open many doors'.
Getting ready
The students are thoroughly coached and prepared for the Salone by the HMC: 'We really want them to make the most of this opportunity, so we ensure that no detail is left unconsidered, ranging from practical matters such as business cards to the choice of the contacts for the students at the show'.
In addition to the preparations for the Salone, the Hout- en Meubileringscollege also puts a good deal of effort into getting the students ready for life after their studies. For example, traineeships abroad are strongly recommended, with a view to gaining experience in the professional field. Luka, has also spent some time abroad: 'Next to my Dutch traineeship, I also completed an internship in Skive, Denmark, as part of an exchange project. I was thrilled by the way in which the professionals in Scandinavia relate to the business in their own way; without any doubt, that period inspired me massively.'
A city full of opportunities
Rotterdam is a city of art and culture, where opportunities are being created and grasped; a city famous for its hands-on approach. Luka fully subscribes to that statement by virtue of her own experience: 'There is a genuine hands-on mentality, which is tangible in the city. That has helped me no end, because by nature I was rather less resolute. I was quite often in doubt, with a tendency to remain indecisive. However, the people here at the HMC and the associated people from Rotterdam have made me realise that sometimes you just have to do things, and developments will then follow naturally. They really taught me that here and I am so grateful for that'.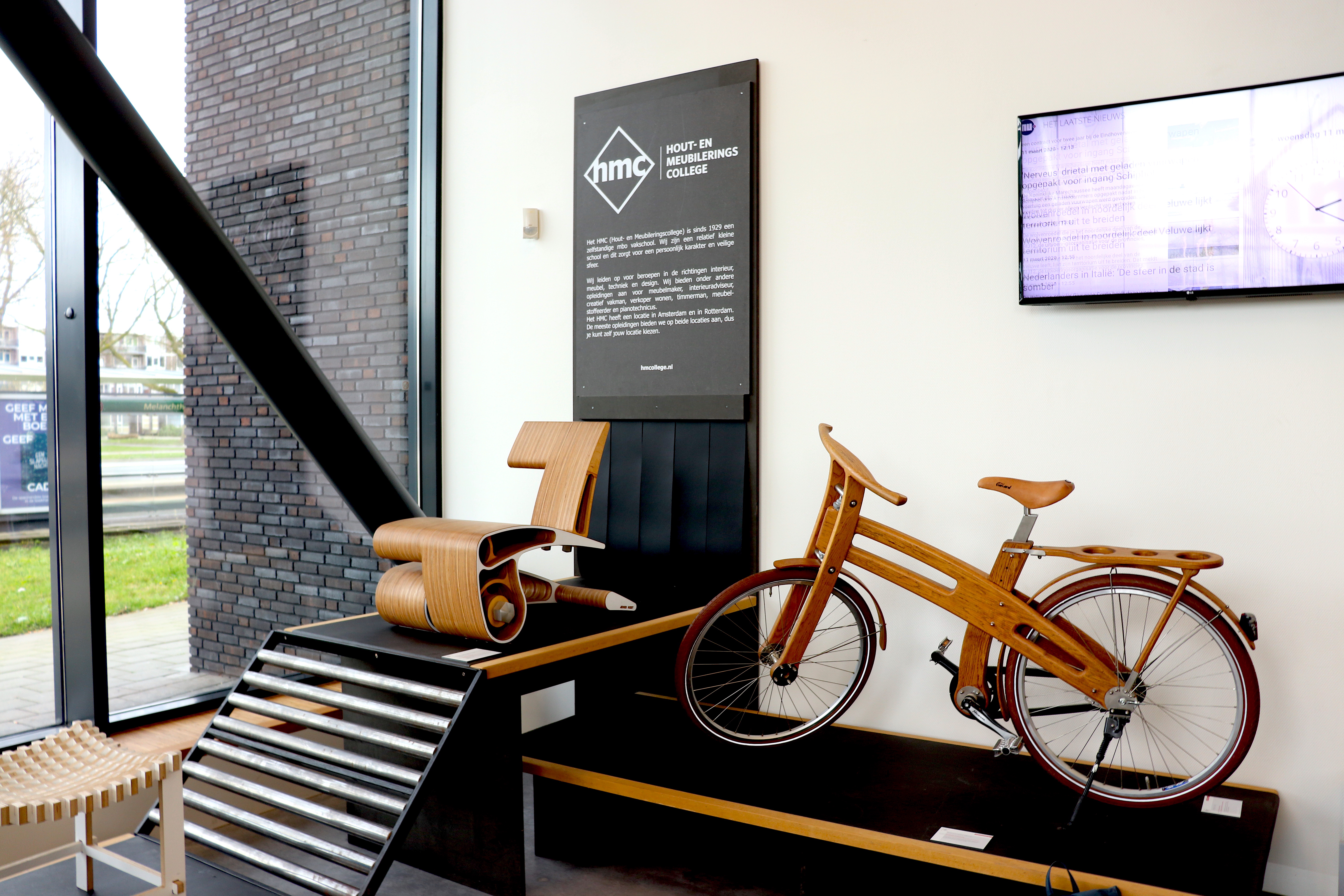 Over the past few years, Rotterdam has increasingly developed into a genuine design city, and has put itself on the map as such. 'For example, we see an increasing number of hotspots for furniture-makers in Rotterdam, such as the Keilewerf', says Van der Veere. 'In the past, students from our college have moved on to there, working at the intersection of production and conceptual design. We can safely say that Rotterdam is on the radar of both students and professionals'.
Rotterdam, with its hothouses for designers such as the Keilewerf, De Wasserij, De Kroon and Voorhaven 57, has become increasingly popular with artists in the last ten years. But Rotterdam has also become increasingly compelling as destination for art lovers thanks to festivals such as Art Rotterdam Week, of which OBJECT has formed part in recent years.
Strong together
In order to further strengthen its connection with the city, HMC is working closely with the municipality of Rotterdam and other renowned city institutions, and business visits and architectural tours are organised in addition to traineeships. All of this helps to make students truly aware of the city's dynamic, and how they can relate to it at a professional level.
Projects and exchange programmes are organised with the Willem de Kooning Academie (WDKA), TU Delft and the Scheepvaart en Transport College (STC), among others. In this context, the HMC curriculum includes a subject whereby Interior Adviser students who want to move on to the WDKA are helped with their transition, HMC students can turn to the STC for lessons in welding, while STC students can in turn attend the HMC to learn certain woodworking techniques. In this way, the collaboration not only transcends the borders between several disciplines, but between different education levels as well.
Dreams
Obviously, qualifying for the Salone is a goal achieved in itself, but Luka's perspective is longer: 'What I would love most is to be able to design my own furniture and produce and sell it myself. I dream of being completely free to make objects that I am proud of, and of being able to support myself in that way. I would really love that and Rotterdam would be the perfect city in which to achieve that goal'.