At first glance it may appear a bit strange. Two ladies, scraping walls alongside busy streets in the centre of Rotterdam. But it's not strange, say Annemarie Piscaer and Iris de Kievith, the two aforementioned ladies. "We pick these spots very carefully. Many cars use these streets and there's a lot of breaking. These spots are the dirtiest and here we can harvest the most." Probably this doesn't help you understand things. By all means, read on. This is the story of two ladies who share a good dose of idealism and imagination and use that to bring to our attention and tackle a big problem. Make It Happen with a bucket.
Rotterdam is a busy city with lots of traffic. All this traffic brings us where we want or need to be, but it also emits a lot of fine dust particles, which is very bad for us and for the environment. And this is exactly what Annemarie and Iris want to show to the general public with their project serVies (Dutch for tableware or earthenware, with a creative play on the Dutch word 'vies' which means dirty). "There's a lot of fine dust particles in the air in cities like Rotterdam. We create these particles ourselves, by driving in our cars and on our scooters. The problem is that we can't see the pollution we cause. But it's there, and it's so bad."
Annemarie and Iris, who from next Spring onwards will be joined by a group of volunteers, collect the fine dust in various locations in Rotterdam. They do this by scraping the black soot off walls alongside busy streets. The material is collected in buckets and later processed into the glaze on tableware. Annemarie holds up a 15 centimetre long tube which is more than half full with a black powder. "This is the amount of fine dust that one person in Rotterdam breathes in over 85 years, so roughly a lifetime. It's the same amount that one person and puts into our air in 3 months, just by driving a car though the city. Unbelievable, isn't it…"
Creating awareness
People cause this problem. And people should and can solve it. But how do you create awareness for a problem that is nearly invisible? "Awareness is the main goal of project serVies" Annemarie says. "It's the first step on the road to behavioural change, which is needed if we want to tackle the problem of air quality in our cities."
From fine dust to fine tableware
By processing the fine dust into the glaze on a tableware, Annemarie and Iris can convert a dirty and harmful substance into something that's harmless and useable. Something you can eat off of. "We like to call this 'a dish with a story'. In Rotterdam on average we breathe in approximately one whole gram of fine dust per year. We use that same amount to glaze one dish or cup. In the same way we process the amounts a person would breathe in over 25, 45, 65 and 85 years. It's logical that the different amounts of dust create different colour patterns. In this way we take something that's unhealthy and convert it into something practical and even beautiful. And at the same time we make a big problem visible and we do something about it."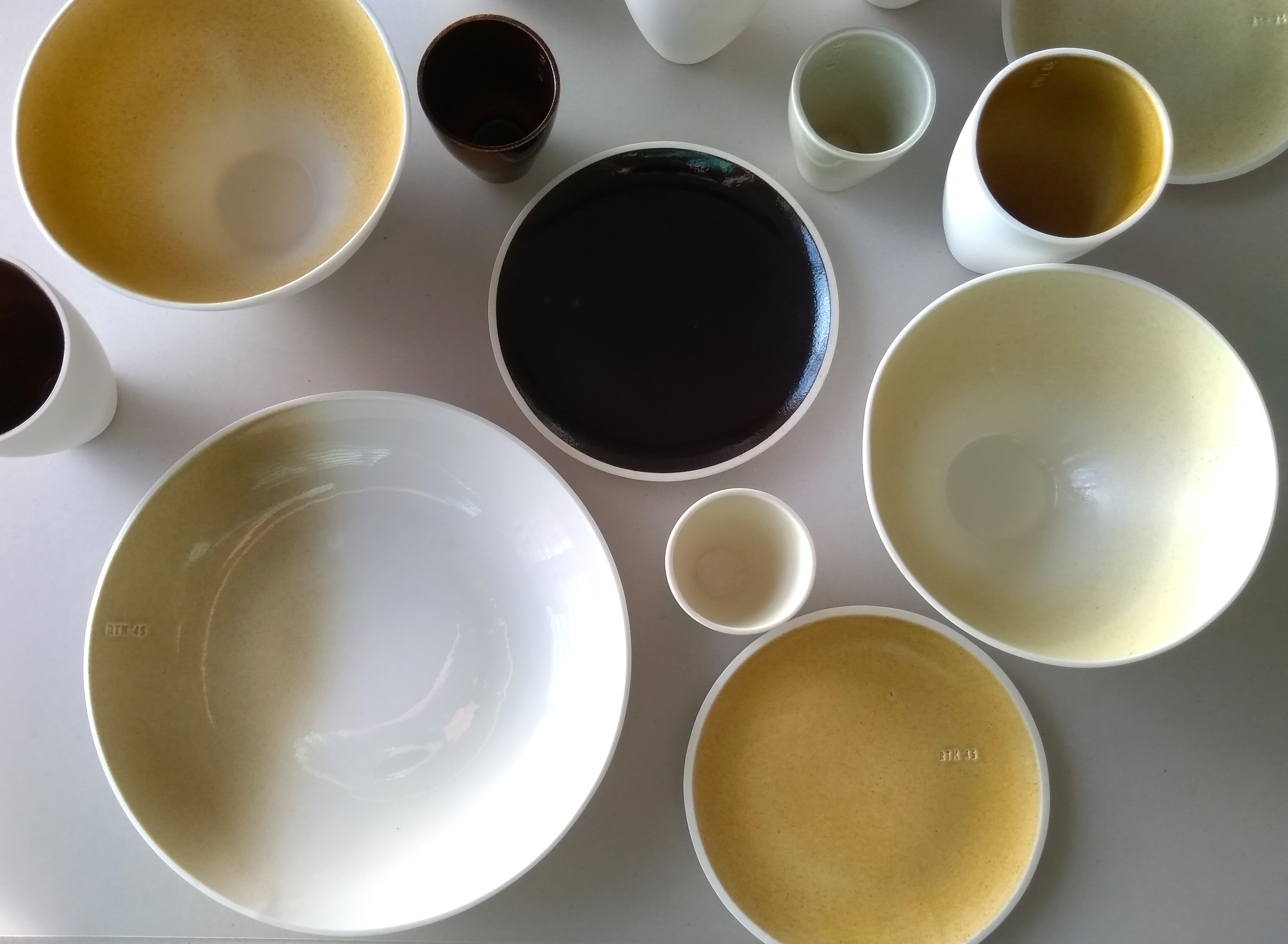 Added bonus: new knowledge and crosspollination
In order to develop the technology for making a glaze based on fine dust particles, Annemarie and Iris have had to call on the knowledge and expertise of various companies and institutions in and around Rotterdam. The collaboration yielded important and valuable contacts, insights and also new knowledge and crosspollination between different disciplines. Which is probably equally important as the original goal of creating awareness and visibility of the issue of air quality.
* Project serVies was co-funded by subsidies from the Rotterdam CityLab program (2017). End of November 2018 Stadslab Luchtkwaliteit and spin-off project serVies won the Job Dura Award 2018.
Header photo: Karola van Rooyen