Neste MY Renewable Diesel is now available for purchase at seventy petrol stations in the Netherlands. Finnish fuel producer Neste has a huge refinery in the Port of Rotterdam. With its sustainable fuels, Neste is contributing to the Energy Transition. 'Its high awareness of climate change makes the Netherlands an interesting market for us.'
As the world's largest producer of renewable diesel, Neste is focusing on clients who aim to improve their transport sustainability. The company produces over three million tonnes of renewable diesel per year; a considerable amount, but still relatively low compared with global diesel consumption. This means that there's a lot of ground to be gained for renewable diesel. Renewable diesel is not the only solution for reducing transport sector CO2 emissions, but it can make an important contribution.
"We use ten different renewable raw materials" – Pieter Zonneveld, Neste
Entirely fossil free
Neste MY Renewable Diesel reduces CO2 emissions by 90% compared with fossil-based diesel. The product is made entirely from renewable raw materials. 'We use ten different renewable raw materials,' explained Pieter Zonneveld, who is responsible for Neste's sales in Europe and Asia. 'These raw materials comprise 80% waste and residual material and 20% vegetable oils. We are investing continuously in research into new fossil-free raw materials, including algae.'
High quality
The renewable Neste MY is more expensive than fossil-based diesel and biodiesel, but its high product quality results in reduced diesel engine maintenance costs. The fuel is suitable for all diesel engines and is fully compatible with the existing distribution infrastructure. Neste MY is transparent in colour and entirely odourless.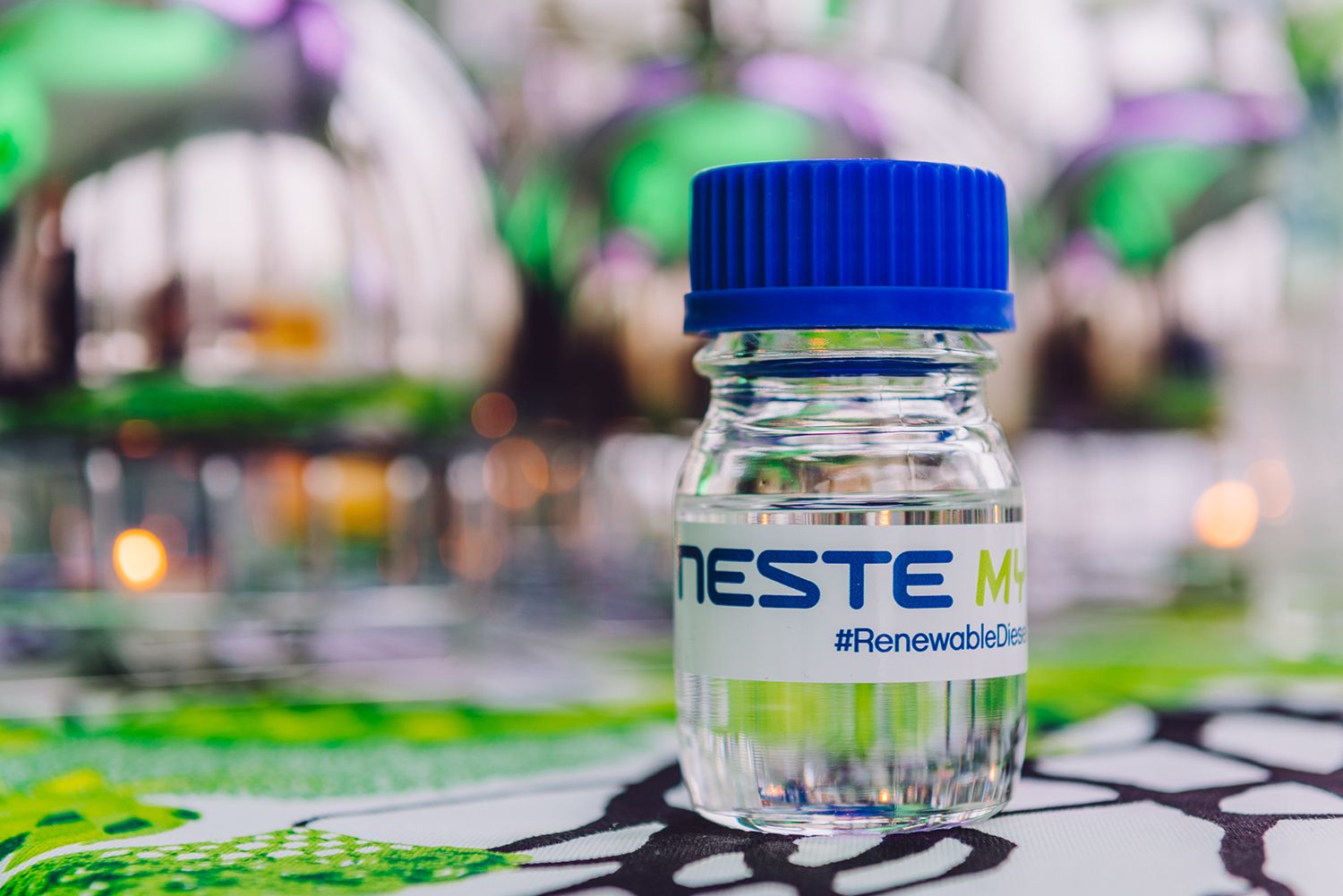 Climate awareness
Neste is selling its renewable diesel across the world. Particularly Finland, Sweden and the American state of California are big buyers. According to Zonneveld, the roll-out in the Netherlands is a logical step. 'Markets that have a high awareness of climate change are interesting for us. Climate issues are a hot topic in the Netherlands. We're mainly aiming for the B2B market, which includes bus operators and waste companies that often work under local government contracts. Many Dutch municipalities are working hard to reduce local emissions. Environmentally friendly transport is part of this.'
Rotterdam refinery
Neste opened a refinery in the Port of Rotterdam in 2011, which mainly produces renewable diesel and to a lesser extent renewable LPG. For refinery employees, the roll-out of Neste MY Renewable Diesel on the Dutch market is a game changer. Zonneveld: 'We are producing a fantastic green product in Rotterdam, but hardly anyone knows about it. This step will increase our public profile as well as enable us to attract talented people to our refinery in Rotterdam.'

Sustainable aircraft fuel
As well as renewable diesel for road transport, Neste Renewable Jet Fuel is producing renewable fuel for aircraft. The aviation sector is not known for its sustainability, so there are many environmental gains to be made here too. Neste recently opened a new office in Hoofddorp close to Schiphol that is to become the centre for its growing Renewable Aviation division. Neste has contracts for the supply of Renewable Jet Fuel with companies including KLM, Lufthansa and American Airlines.
Production expansion
The capacity of Neste's Singapore refinery will be expanded in the coming years, enabling the company to produce some 4.5 million tonnes of sustainable fuels annually starting from 2022. At the same time, Neste is also taking the initial steps at its Düsseldorf site for the sustainable production of plastics, chemicals and polymers. With all these activities, Neste is making a vital contribution to the energy transition. The importance of this was shown in the recently published United Nations Environment Program Emissions Gap Report. In this report, the United Nations warns that much more action is needed to keep global heating to no more than two degrees by 2030. 'CO2 emissions are still huge,' Zonneveld added. 'We have just ten years to address this. Our renewable fuels are certainly not the only solution, but they can play an important role.'
This showcase was published on the website of the Port of Rotterdam Authority.