Rotterdam Ahoy will be celebrating its fiftieth birthday in 2021. This milestone will be marked by the opening of a new conference building by the entrance. This new building will house 35 ultramodern meeting rooms and be home to RTM Stage, the Netherlands' largest auditorium/theatre that will seat 2,750 people. RTM Stage is to become a flexible space that can, when the seats are removed, also host concerts, events, and trade shows. It is set to be opened in late 2020.
Sustainable innovation
The opening of a new conference centre is part of a series of upgrades at Ahoy Rotterdam, which also includes the sweeping renovation of its trade show and events facilities. The clever idea to move the outer wall of Halls 2 and 4 has created over 1,200 square metres of extra floor space. The catering areas and toilets were also upgraded and dimmable LED lighting was installed in all halls. Yet another energy-saving intervention was the replacement of the aeration system by new sustainable technology. [caption id="attachment_6483" align="alignnone" width="675"]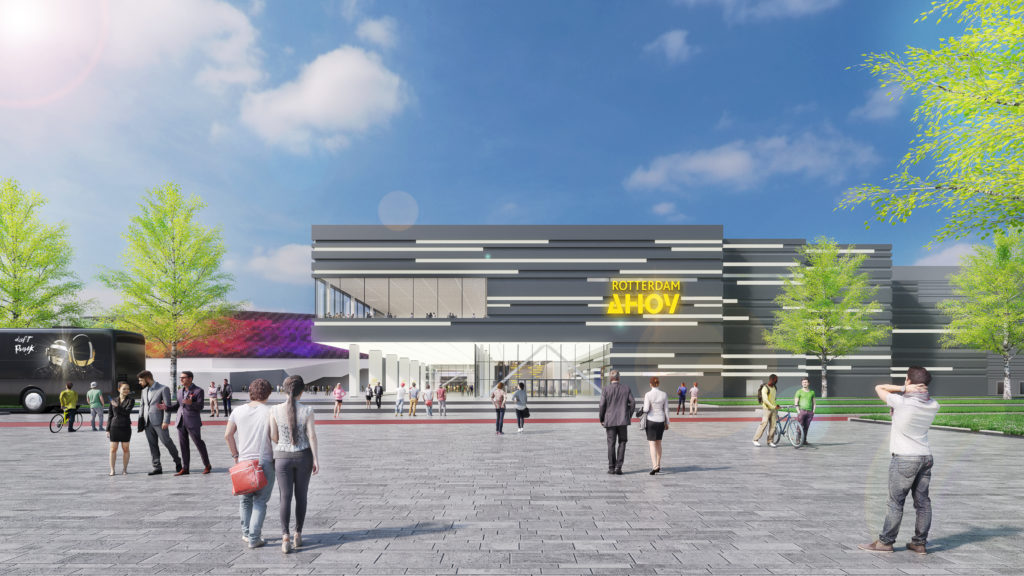 Impression of the new conference building. Source: Rotterdam Ahoy[/caption]
Heart of the South
The renovation of the halls and the new conference centre are part of a large-scale redevelopment plan for Rotterdam's Heart of the South area. It is to be a high-quality makeover that will create a new bustling city centre south of the river. The intended new area will be a place where people will want to spend time, and where residents, visitors, and businesses will feel right at home. This redevelopment project will create considerable value for South Rotterdam and the city as a whole: improved quality of life, more jobs, and better facilities.