When Jelle van Tilburg (34) was informed a month ago that he had a malignant brain tumour, he started a search straightaway for hospitals that were capable of treating his condition effectively. That was when he discovered that precious little is known about brain tumours.
Jelle's sober-minded comments: 'Brain tumours are a distant reality for most people. That is why I think it is essential that overall awareness of the disease is increased, and that also goes for current research. A malignant brain tumour cannot currently be cured; they can remove the tumour in the best way possible, but it is bound to return one day'.
The musician and instrument builder from Bergen op Zoom decided not to just accept the situation. He devised a plan, with a two-fold purpose.
First of all, he deliberately opted to be conscious during his brain surgery. This type of operation, known as 'awake craniotomy', is often performed at the Erasmus MC. At the point where the surgeon starts to remove the tumour, the patient is returned to consciousness. One reason for this is that when the patient is awake, it is possible to check far more effectively that no vital brain functions are being damaged. And no; the removal of a tumour from the brain is not painful.
Fine motor skills
Jelle explains: 'I told the neuro-surgeon that I would like to play the guitar during the operation. I wanted to be sure that my fine motor skills and creativity would be preserved. Not only that, I was also in favour of having the operation and the guitar-playing filmed to show the outside world that this sort of thing is possible. What I said I would most like would be for millions of people to watch this film of the operation in the hope that this would encourage more support for brain tumour research'.
And so it was that, in addition to neurosurgeons Arnaud Vincent and Eelke Bos and theatre nurse Joan Bouterse, four further assistants were ready in Operating Theatre 4 of the Erasmus MC, and all of them contributed to the realisation of Jelle's wish. Clinical linguist Djaina Satoer kept Jelle talking from start to finish, checking that his speech, facial expression and other body reflexes remained intact. Other theatre assistants were poised to re-position the arm and leg supports of the operating table whenever necessary, and the whole operation was filmed by someone using an iPhone.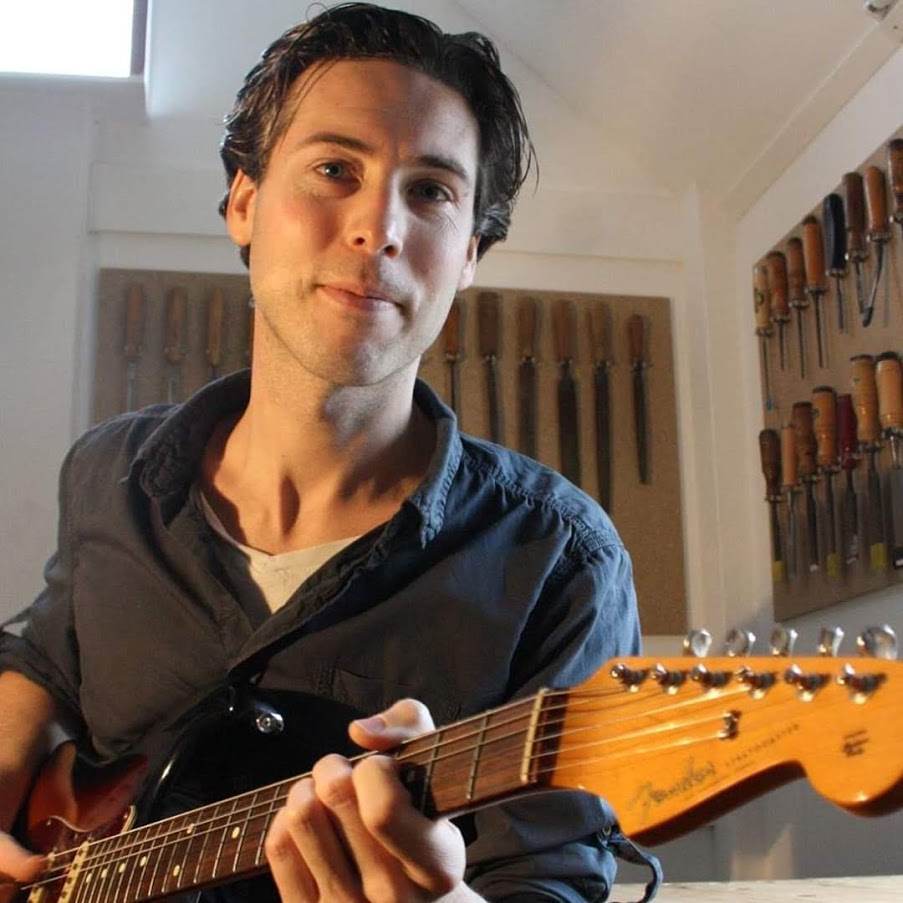 Wish you were here
The business of playing the guitar was not quite so simple. So that neurosurgeon Arnaud Vincent could do his work with great precision, Jelle's head was tightly secured in a clamp, and the equipment necessary for the operation was quite noisy, so Jelle had to play his music with limitations to both his eyesight and hearing. Nevertheless, he and his 12-string guitar produced a splendid version of the Pink Floyd song 'Wish You Were Here'.
'I chose that song because everyone knows it', said Jelle, over a cup of tea in the staff restaurant of the hospital just two days (!) after the surgery. 'It has a meaning for everybody. As for myself, I played it because ideally you would love to have your dear ones next to you during such an operation'.
Jelle seems to have felt remarkably relaxed during the operation; he casually asked his audience if there were any requests, and he plucked a bit on the twelve strings. 'I also wanted to play a blues, a brain surgery blues. The thing is, all of the specialists were so utterly calm and composed before the start of the operation that I also went into the operation feeling serene'.
'The operation was successful', said neurosurgeon Vincent immediately it was completed. Jelle: 'The tumour tissue is now in the laboratory, where they are going to ascertain whether a follow-up treatment, chemotherapy for example, makes sense'.
Bands against Brain Cancer
If Jelle continues to feel fit enough in the near future, there will be a publicity campaign, the proceeds of which will go to the Daniel den Hoed Fonds. This fund, which among other things finances brain tumour research, forms part of the Erasmus MC Foundation. 'I am busy setting up the Bands Against Brain Cancer foundation. The idea is to organise a charity concert as well as an auction of exclusive musical instruments. So – to be continued!'
Also read the interview with neurosurgeon Arnaud Vincent about awake brain surgery.