The port of Rotterdam has a long history of pioneering innovations that have been ground-breaking. The constant pursuit of finding and developing solutions and smart technologies is locked into the very DNA of all the companies in the port. Innovation is one of the port's major success factors. RDM Rotterdam is the perfect place to achieve innovations.
Innovative cluster
RDM Rotterdam is the innovation showcase in the Rotterdam port area, acting as a catalyst for innovation. These past years, the former shipyard of the Rotterdamsche Droogdok Maatschappij (RDM) has been redeveloped into an innovative cluster. Here, right in the middle of the port, yet surprisingly close to the city centre, we see schools and universities, researchers and businesses collaborate on designing a completely new manufacturing industry for port and city. RDM Rotterdam is a collaboration between Rotterdam University of Applied Sciences and the Rotterdam Port Authority.
Inspiring, authentic atmposhere
A wide range of companies, varying from start-ups to global players in the maritime and offshore industries, have established a presence on the RDM site to develop, manufacture, test and demonstrate prototypes and new products. The inspiring, authentic atmosphere in this historic place provides the perfect setting to achieve great things.
Cross-pollination between diverse companies and the students, teachers and researchers from Rotterdam University of Applied Sciences and Techniek College contribute to RDM's success, as does the presence of state-of-the-art machines and instruments, including a hydraulic laboratory. A wide range of events and conferences adds to the innovative nature of the RDM site.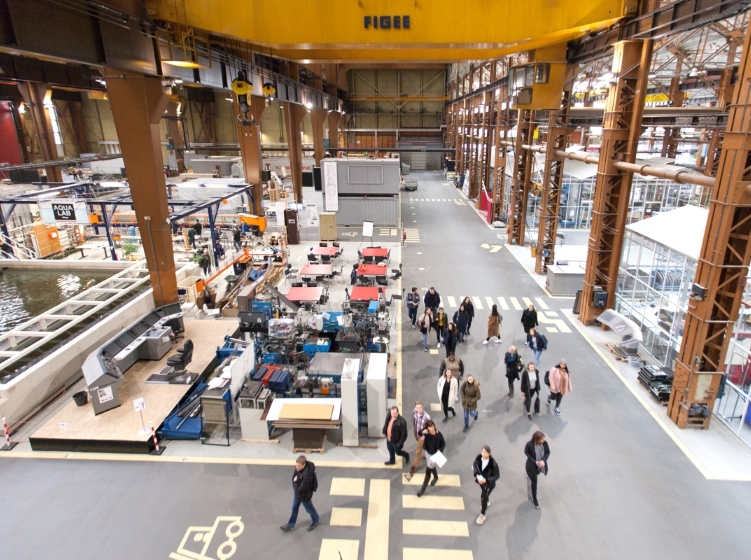 Successful companies such as Ampelmann, Franklin, Damen, IHC Merwede and Imtech are already reaping the benefits of everything RDM Rotterdam offers, and there is room for plenty more pioneers.
More info: website RDM Rotterdam