Rotterdam, the first
PlayUnified
city in the Netherlands, is an inclusive, multi-cultural and accessible city with a strong love for sports. Many organisations, such as the City of Rotterdam and Rotterdam Topsport do their best to stimulate people to live active lifestyles . The Women's European Championships Wheelchair Basketball which took place from 30 June – 7 July at Topsportcentrum in Rotterdam, were a true showcase of people coming together, doing sports and reaching for the best, regardless of abilities, disabilities or handicaps.
MAKE IT HAPPEN
Being a sports city that values inclusiveness, equality and creating and making the most of chances, it's no wonder that there was a lot of attention for the Women's European Championships Wheelchair Basketball Basketball and the side events, this Summer in Rotterdam. But it actually almost didn't happen at all… the organisation had a hard time finding a suitable European city to host this event. When Rotterdam Topsport heard this, they put everything in place to ensure that this event could land in Rotterdam. After the Paralympics and the World Championships the European Championships is the most important international wheelchair basketball event in the world.
VIBRANT ATMOSPHERE
Jitske Visser (Wheelchair Basketball player, Dutch Team): I feel like we got more attention, admiration and fans during the EC. This tournament was about more than 'just winning'.
Rotterdam stepped up and proved to be the perfect match. The event matches the core values of Rotterdam: raw, worldly and a no-nonsense attitude. The Topsportcentrum offered a professional, but also urban-family and hospitable setting. A kind of flat share where athletes, fans and wheelchair users from eight European countries could meet and mingle met. A melting pot like Rotterdam. Many nations united by one thing: a peaceful, vibrant, organic heart. This atmosphere was also felt by the players of the Dutch team. Dutch international and European and World Champion Jitske Visser: "It was awesome playing in front of our orange home crowd. There are no words to describe the feeling winning the gold on home soil. It also was the first time a paralympic sport was broadcastive on television. I'm super happy and proud that we were part of that. The city of Rotterdam and the organisation BEN did an amazing job creating something special. Not only with the games, but also side events, where people could experience our sport. I feel like we got more attention, admiration and fans during the EC. This tournament was about more than 'just winning'. [caption id="attachment_27822" align="aligncenter" width="800"]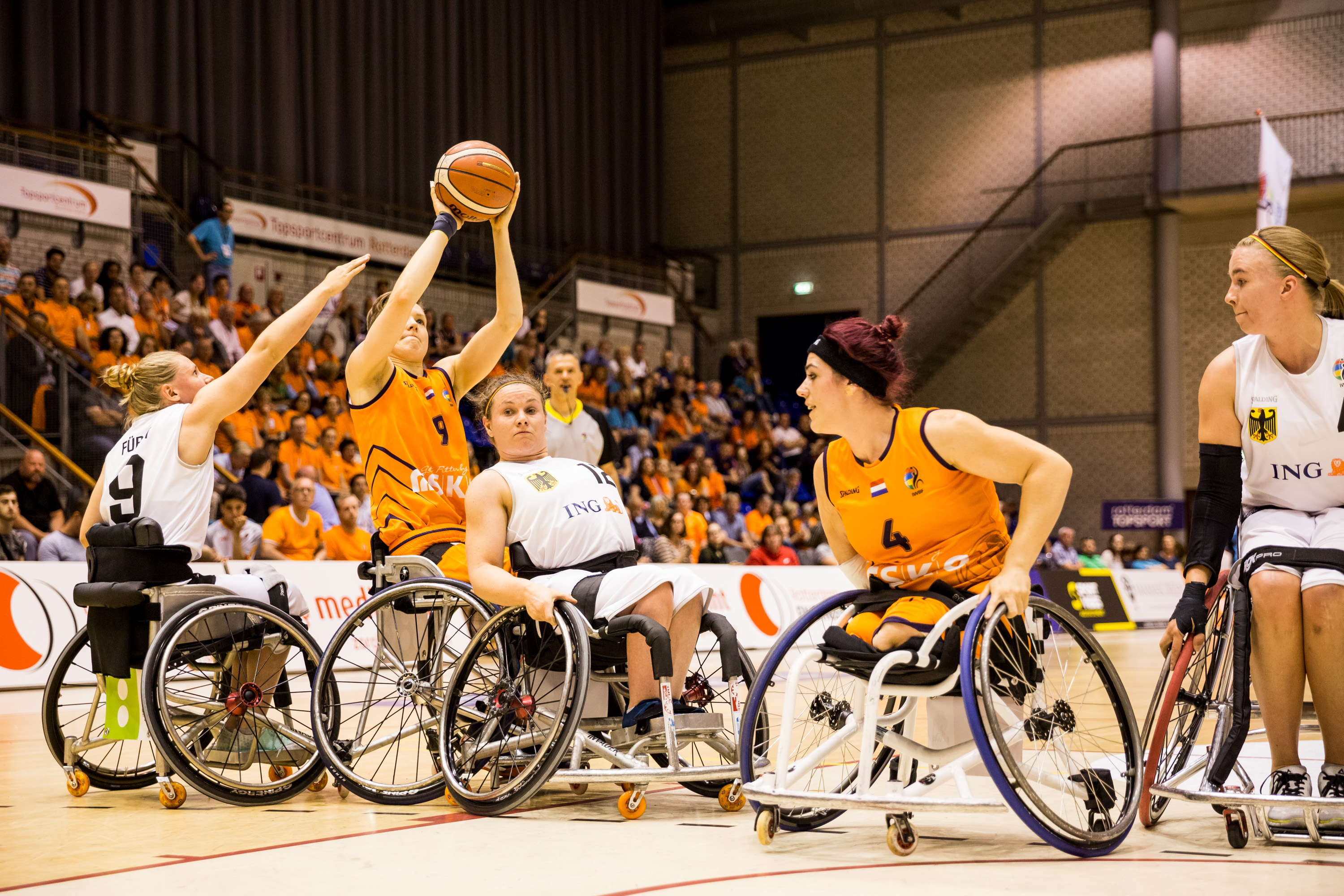 Laura Fuerst (#9, Germany), Bo Kramer (#9, Netherlands), Annabel Breuer (#12, Germany), Sylvana van Hees (#4, Netherlands); Germany - Netherlands, ECWA 2019, Topsportcentrum Rotterdam, Rotterdam (Netherlands). Photo: Steffie Wunderl[/caption]
INCLUSIVE GAME
Wheelchair Basketball is a remarkable sport. Most people think it is played by two teams consisting of only disabled people, but that doesn't have to be the case. Wheelchair basketball is one ofthe most inclusive sports in the world, because disabled and not disabled people are playing together. The fans, families and players aren't interested in other people's handicap, they are only interested in fantastic, dynamic and thrilling sports. This attitude fits well with the no-nonsense mentality of Rotterdam.. The biggest difference to other paralymic sport disciplines is that the rules are easy to understand because basically they don't differ from regular basketball. Only two or three rules are different. That means everyone can understand wheelchair basketball quickly and easily.
ENJOYING THE SCENIC VIEW OVER THE PORT
Rotterdam itself is also a city where you as a wheelchair user can move around quick and easily. For disabled people moving through a city can be quite challenging,. The athletes that took part in these championships found Rotterdam to be very accessible and enjoyed their stay.
Simona Ladzik (Rollt.Reporter & Wheelchair User): "I have rarely experienced a city where I came from A to B so relaxed in a wheelchair.
Simona Ladzik, reporter at the German wheelchair basketball magazine Rollt and wheelchair user herself says the following about the accessibility of Rotterdam; "Most of the sides that I visited were wheelchair friendly, I really loved the Markthal as the food there was perfect. But I also loved the Zoo and the Euromast. Spido was nice as well - especially because there were ramps to the topdeck, so wheelchair users like me could enjoy the full and scenic view over the port. The Inside Rotterdam Tour was lovely and quite a highlight of the trip, with the final stop at the Fenix Food Factory. So, I am not able to decide whether there is the one and only attraction that I liked the most because I loved so many things in Rotterdam." Top sports, social interaction, inclusiveness, enjoying the city… the Women's European Championships Wheelchair Basketball were a perfect match. [caption id="attachment_27823" align="aligncenter" width="800"]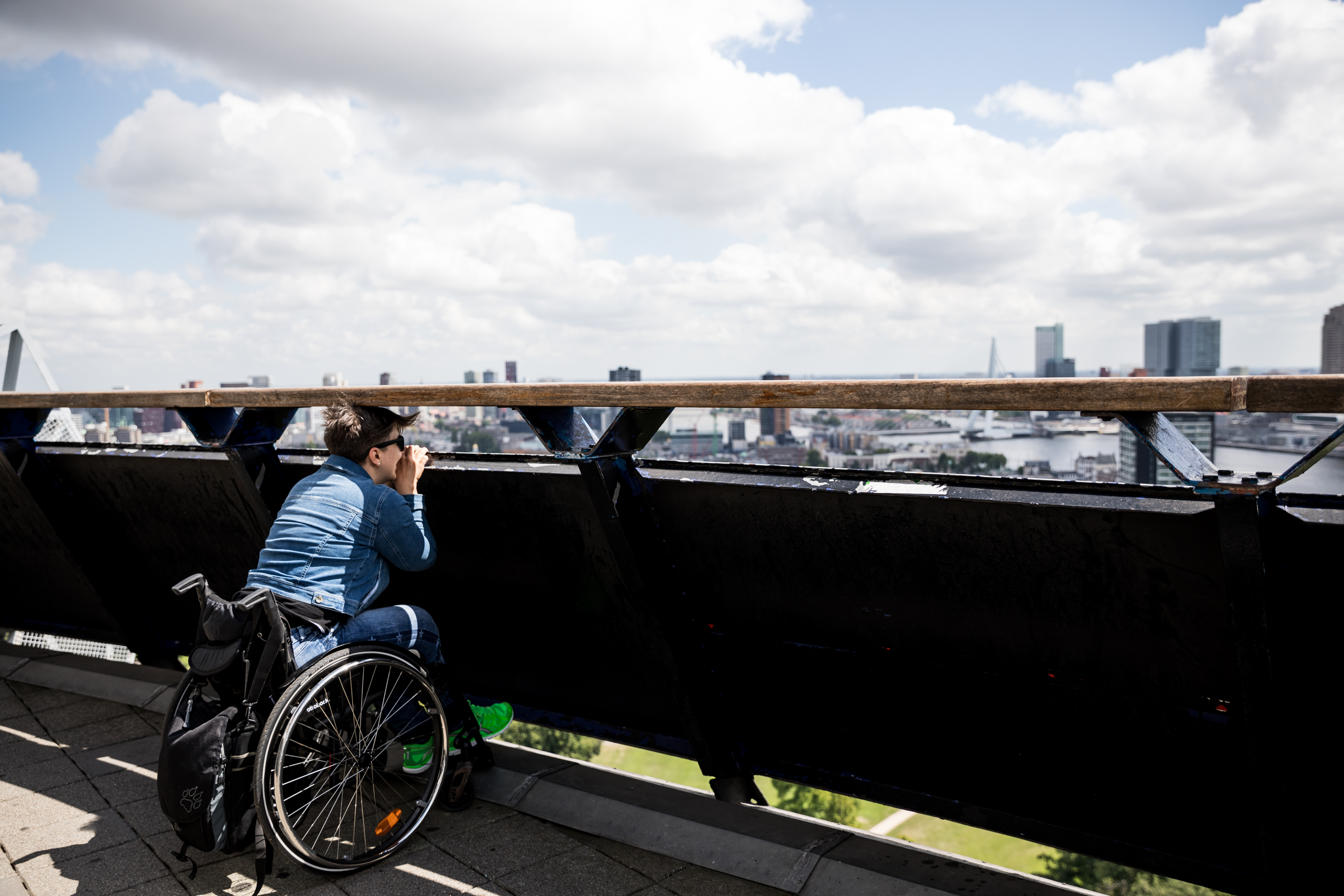 Simona enjoys the view from the Euromast. Photo: Steffie Wunderl[/caption]
This showcase was created through a collaboration between Rollt Magazine, Rotterdam Topsport and Rotterdam Partners. Rollt. editor in chief Martin Schenk about the partnership: "I really want to thank Rotterdam Topsport, Rotterdam Partners and Rotterdam Make It Happen for their trust. The cooperation not only shows, that wheelchair basketball is gaining momentum, but also that an authentic and professional media coverage about Europeans and the city Rotterdam is appreciated.
Header Photo: Steffie Wunderl