Between 18 and 27 September 2020, Rotterdam will once again be coloured pink for the Rotterdam Pride event. Rotterdam Pride started seven years ago as a happening with some 500 participants, whose aim was to increase attention for the LGBTQIA community. The event now welcomes around 60,000 visitors, who enjoy many activities throughout the city. This year's edition also has all the makings of a memorable event, and Bey Cil, chairperson of the Rotterdam Pride Foundation since August 2020, shares more information.
Bey promises: 'This seventh edition is bound to be different due to the corona virus, but it will definitely be a worthwhile event. The programme includes a number of great items. The past few months have been hectic and the constantly changing corona directives have called for a great deal of flexibility. It's all about ongoing coordination with our partners, locations, sponsors, funding institutions and the organising team to ensure that we can all take part in a safe and enjoyable Rotterdam Pride'.
Go for it
Hectic though things may have been, giving up in despair was never an option for Bey. He responded with great determination:
'The exact opposite.
The achiever in me ensures that I always want to get the best possible result out of any situation. Just go for it! I work towards an objective with maximum effort. Rotterdam Pride embodies the connecting of people, irrespective of age, gender identity, sexual orientation, body shape or cultural background. And at this time, when we have to maintain social distancing and are seeing far less of each other, that connection is all the more essential. To me, this situation is just an additional impetus to push forward with a number of other Rotterdam-based organisations to turn this year's edition into something very special'.
Dare to...
The theme of the 2020 edition of Rotterdam Pride is Dare To… Bey explains: 'With the Dare To… theme we are calling on people to move closer towards being themselves. We want to encourage each and every member of the LGBTQIA+ community to dare to be proud of themselves. Our conference and talks provide an opportunity for people to look deeper into themselves and into others as well. More insight, self-love and knowledge make you a more congenial person, ultimately making Rotterdam a better place too'.
Extra attention for vulnerable groups
The programming of this year's edition includes extra attention for the more vulnerable groups within the LHBTQIA community. Says Bey: 'We can see that there is still much to be gained in terms of emancipation and acceptance within the bicultural target group. For young people originating from, for example, the Antilles, Suriname, Morocco or Turkey, coming out within their own family and community is still awkward. Coming out often means that ties with family are severed; that was the case for me when I came out at 16, and 20 years later things are basically much the same. In other cultures too there is still too little acceptance of transgender men and women; they are still stared at in the streets and treated badly. Rotterdam Pride features many talks, presentations and films which highlight the challenges of this bicultural target group within the LHBTQIA+ community'. People of Colour will be featured on the Totally Confidence Catwalk during the Rotterdam Pride Conference in the Kunsthal. In addition to substantive talks and debates about the challenges within the bicultural target group, this includes several performances, including a ballroom dance showcase. Rotterdam Pride will also be paying extra attention to the elderly. Bey explains: 'Some older people have had to remain isolated as a result of the corona virus. For them – particularly for our "pink elderly" – we have organised a guided tour in Blijdorp Zoo which explores the world of animals, which also includes homosexuality. The guided tour will end with a lunch featuring performances from numerous thrilling drag-queens'. [caption id="attachment_34217" align="aligncenter" width="800"]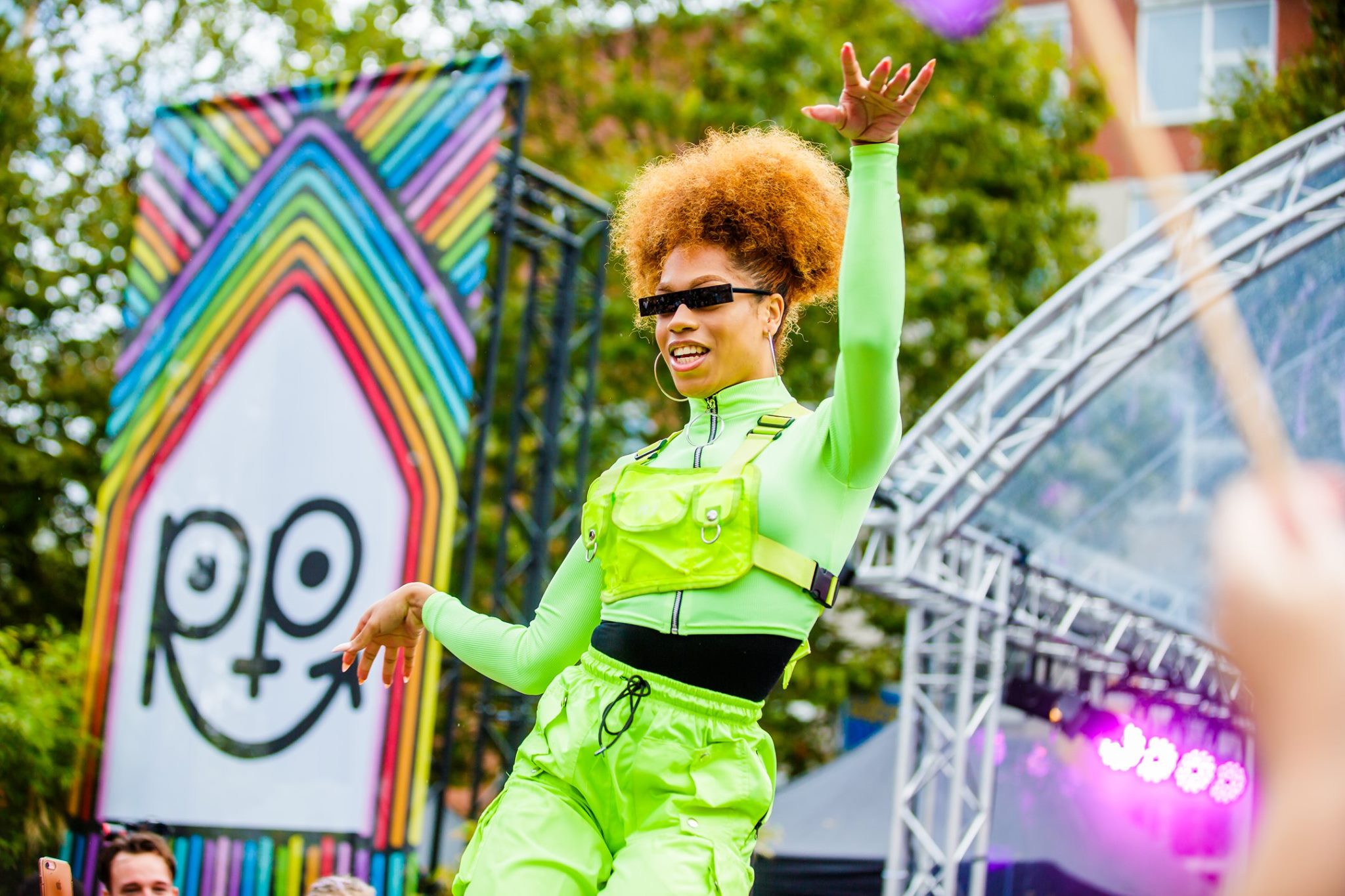 Rotterdam Pride 2019. Photograph: Jordy Brada[/caption]
The Kunsthal as the Epicentre
Although Rotterdam Pride organises activities at a number of locations in Rotterdam, one location is chosen each year as the venue for the central programme of the Rotterdam Pride Conference. This year that venue is the Kunsthal: 'The Kunsthal frequently provides an arena for the LHBTQIA+ community through the medium of their exhibitions, and we are therefore proud that the Kunsthal will be the epicentre for Rotterdam Pride this year'.
Inspirational
Bey is also proud of his success in attracting the British model and activist Munroe Bergdorf and the New York writer and performance artist Alok Vaid-Menon to Rotterdam: 'Both speakers are genuinely inspirational and I really look forward to hearing the ideas on emancipation, equality and social awareness that they will be sharing at the Pride Conference'. Anyone wishing to attend these talks can buy a ticket costing 5 euros at the Kunsthal; proceeds will benefit Black Queer & Trans Resistance.
Online community
Numbers of physical visitors in attendance are bound to be lower than at previous editions due to the corona virus, but Bey hopes that many more visitors will participate online: 'Many of the talks will be live-broadcast via our website and Facebook page, and recordings will be available to stream after the event. OUTtv will also be broadcasting several items through their channels, as will Festival TV of OPEN Rotterdam. That means everybody in the Netherlands will be able to see from their couch how we in Rotterdam are working on a society in which everyone can feel happy and safe'. How are things going to be when this is all over and normality has been restored? Bey smiles: 'My challenge is going to be "Dare to take it a bit slower". I just love the dynamism that the organisation of Pride entails, and yes, it will be a case of kicking the habit, as it were'. If you would like more information about the Rotterdam Pride programme, go to
https://rotterdam-pride.com/
[caption id="attachment_27677" align="aligncenter" width="800"]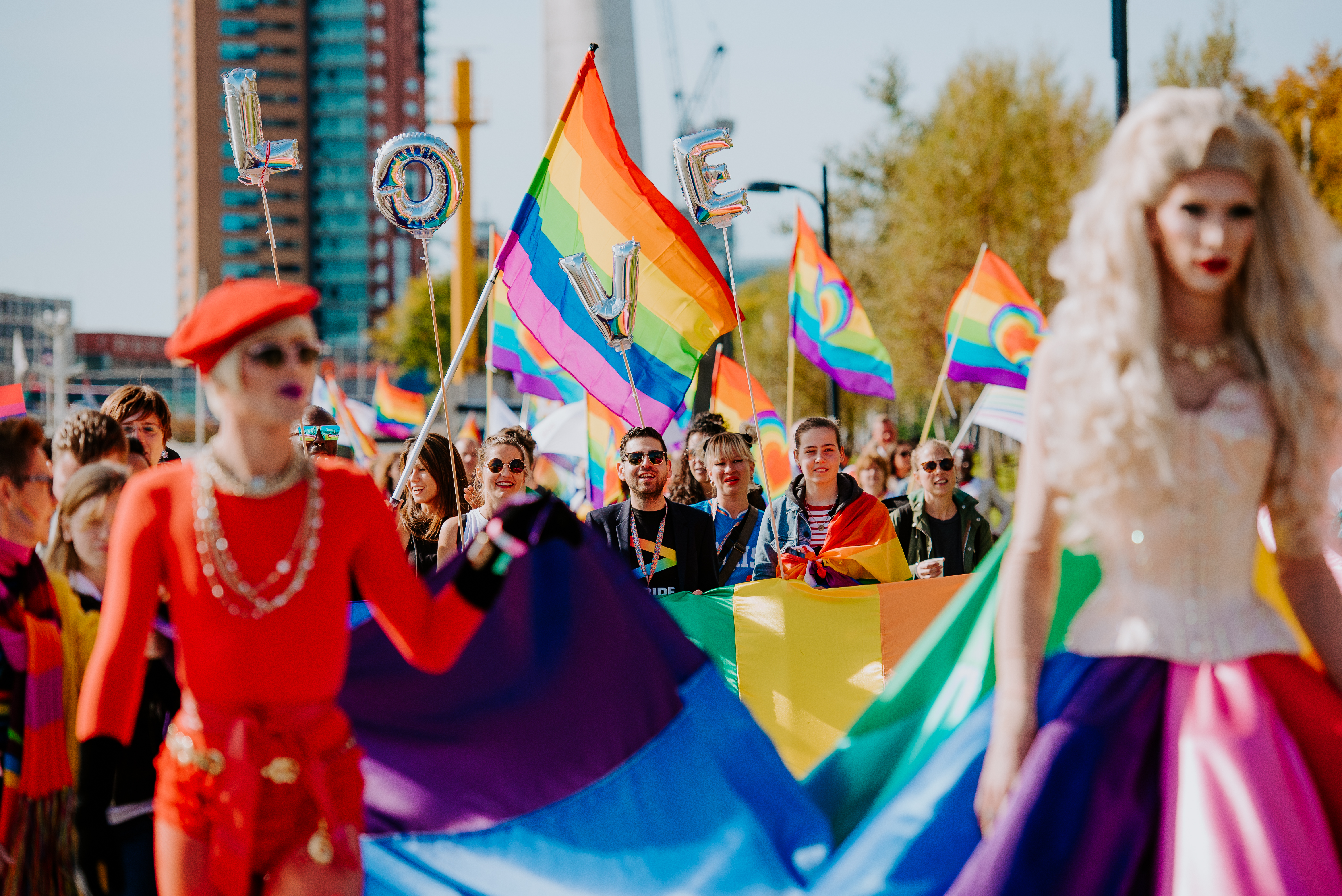 Rotterdam Pride 2019. Photograph: Jordy Brada[/caption] Text: Elles de Bruin-Rook