An ultra-sustainable and gas-free Ahoy exhibition centre, electric buses with a new 'smart' time-table and the use of sensors in lamp posts and waste containers. All of this could be realised through the European RUGGEDISED project, with Rotterdam South serving as testing ground.
Rotterdam and five other European cities – Umeå, Glasgow, Brno, Parma and Gdansk – are working on intelligent solutions for energy, transport and digital technology as part of the RUGGEDISED project. The European Commission will support RUGGEDISED with a financial contribution of 17.5 million euros, of which 5.4 million has been allocated to Rotterdam, the co-ordinating city within the project. The participating cities are also collaborating with businesses and knowledge institutes with a total of 34 parties in Europe working together on the project, which will run until 2021.
South as a living lab
Rotterdam has taken the decision to designate South as a living lab and great efforts are already being made to ensure a better future in collaboration with The Heart of South and NPRZ . As regards RUGGEDISED, this means that, in addition to the above-mentioned partners, the Municipality is also cooperating with RET, KPN, Eneco, Future Insight, ABN AMRO, Uniresearch, TNO, Erasmus University and others for specific project elements.
A sustainable and gas-free Ahoy exhibition centre
The realisation of an intelligent thermal grid and an electric grid on the grounds of the Ahoy exhibition centre is a thrilling, large-scale project; that is why the Ahoy exhibition centre has had solar panels installed on the roof of the new Rotterdam Ahoy Convention Centre and on existing Ahoy exhibition premises. The Eneco energy company will ensure Ahoy's gas-free status in the near future and the Ahoy will also feature the largest solar roof in Rotterdam. One crucial result will be a reduction in CO2 emissions of 1,422 tons. Read more about this project.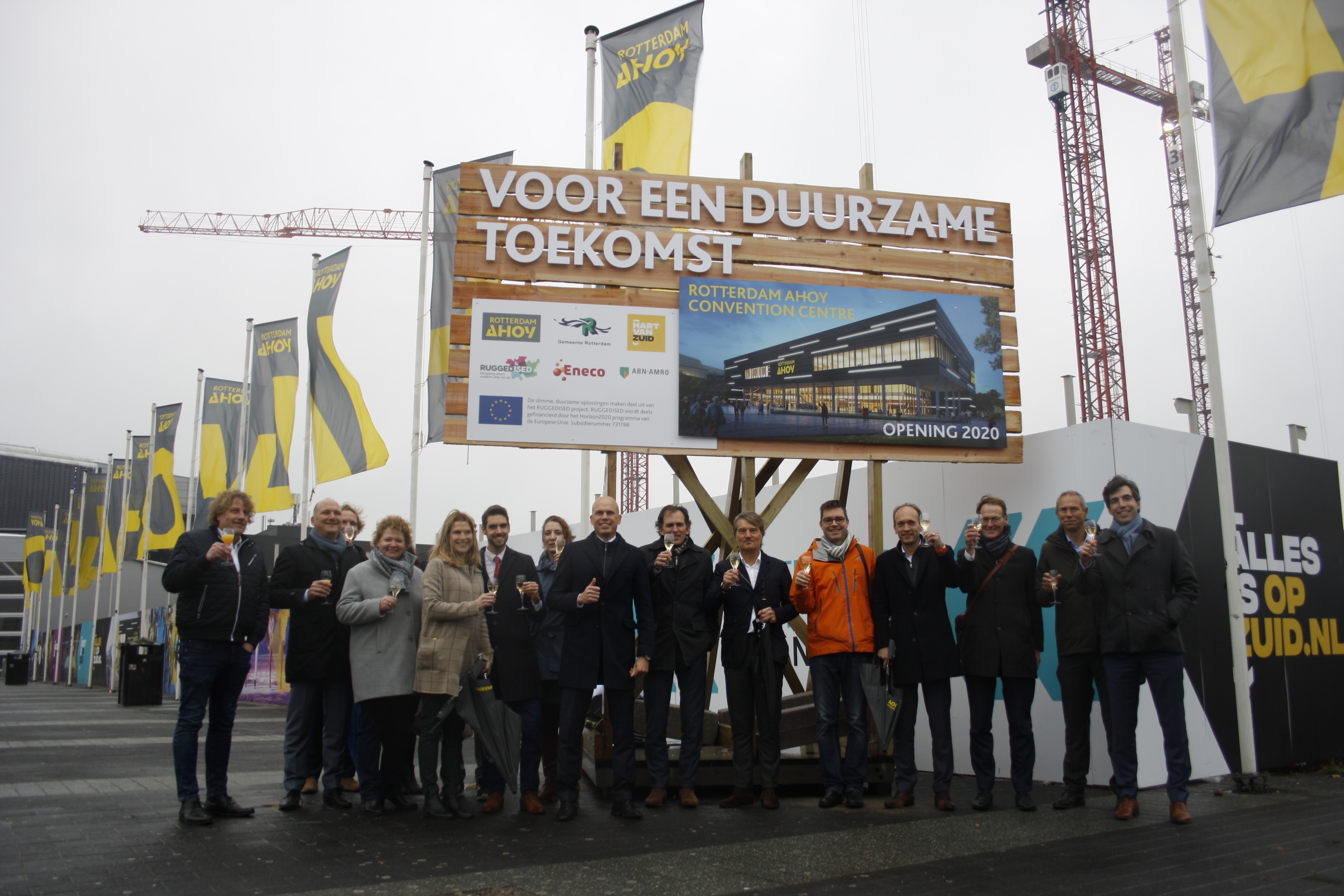 Electric buses and sensors in waste containers
RUGGEDISED Rotterdam also includes the following projects: the deployment of electric buses also featuring a 'smart' time-table and the use of sensors in lamp posts and waste containers, among other things.
CO2 reduction through 'Nerdalize'
The Nerdalize project, executed by Eneco, will ensure that the massive amount of surplus heat generated and wasted by data centres will be used by households, realising an annual reduction of CO2 emissions of 2,000 kg per household.
Read more about Nerdalize here.
Roll-out from South to the whole of Rotterdam
It is anticipated that this wide-ranging innovative technology, tested in the Southern quarter of Rotterdam, will in future also be applied to other parts of the city and may even extend far beyond Rotterdam's borders. Says Albert Engels, RUGGEDISED project co-ordinator: 'There is a difference between doing smart city projects and being a smart city. The difference lies in the making of connections; these will ensure that one plus one makes three instead of two. And that is the specific objective of RUGGEDISED'.
Read more about the entire project on the RUGGEDISED website.