Rotterdam has a lot in common with a marathon runner; pushing the boundaries, falling, standing again and above all never giving up. An international story, with dynamic and shifting boundaries, told by people who have doggedly trained for the event and go for it with all they've got – not forgetting those people who make the marathon happen.
Between us, we can achieve a top performance; sticking our necks out and doing things our way – just a bit differently.
We
run the city together. The many co-workers from the major Rotterdam organisations and businesses that participate in the marathon are all representative of this attitude, and the 2019 marathon provided a perfect example of what Rotterdam is all about. Take
Van Zooi naar Mooi
(From Trash to Beauty), for example, who told the story of the city's ambitions for sustainability and the potential for circularity in a major event like a marathon, and Erasmus MC, who explained their ground-breaking research into Achilles tendon injuries, while Erasmus University organised a Charity Run. If you would like to know more about any of these initiatives. Read on? For part 1 of the video, click
here
.
Van zooi naar mooi (From trash to beauty)
The
Municipality of Rotterdam
and Golazo Nederland joined forces during the Rotterdam marathon to demonstrate to visitors and runners alike that a major event such as the marathon can also embrace circularity. For example, the Kralingseplaslaan was turned into a 'Golden Mile', where the Municipality experimented with the CO
2-
neutral cleaning of the running track. Only cleaning vehicles operating without any fossil-fuel emissions were deployed on this section of the track. In addition, a new destination was found the clothes left behind on the track by the participants. And finally, beyond the finishing line the runners found themselves in an environmental station, where various waste flows were effectively separated. This experiment is a forerunner of the structure that the organisation and Municipality plan to use for the 2020 edition of the marathon, so ideally, the 40
th
Rotterdam marathon will be completely circular in character. If you would like to know more about the
Van Zooi naar Mooi
campaign, you can read more
here
…
Free from injuries at the start
Whether it's just a run around the Kralingse Plas or the full Rotterdam Marathon, every athlete wants to complete their run without injury no matter how many kilometres they run. How can this be achieved? All were welcome in the Rotterdam Make It Happen container booth on Sunday 7 April for an X-ray performed by sports physicians and scientists from the Erasmus MC. [caption id="attachment_23724" align="aligncenter" width="800"]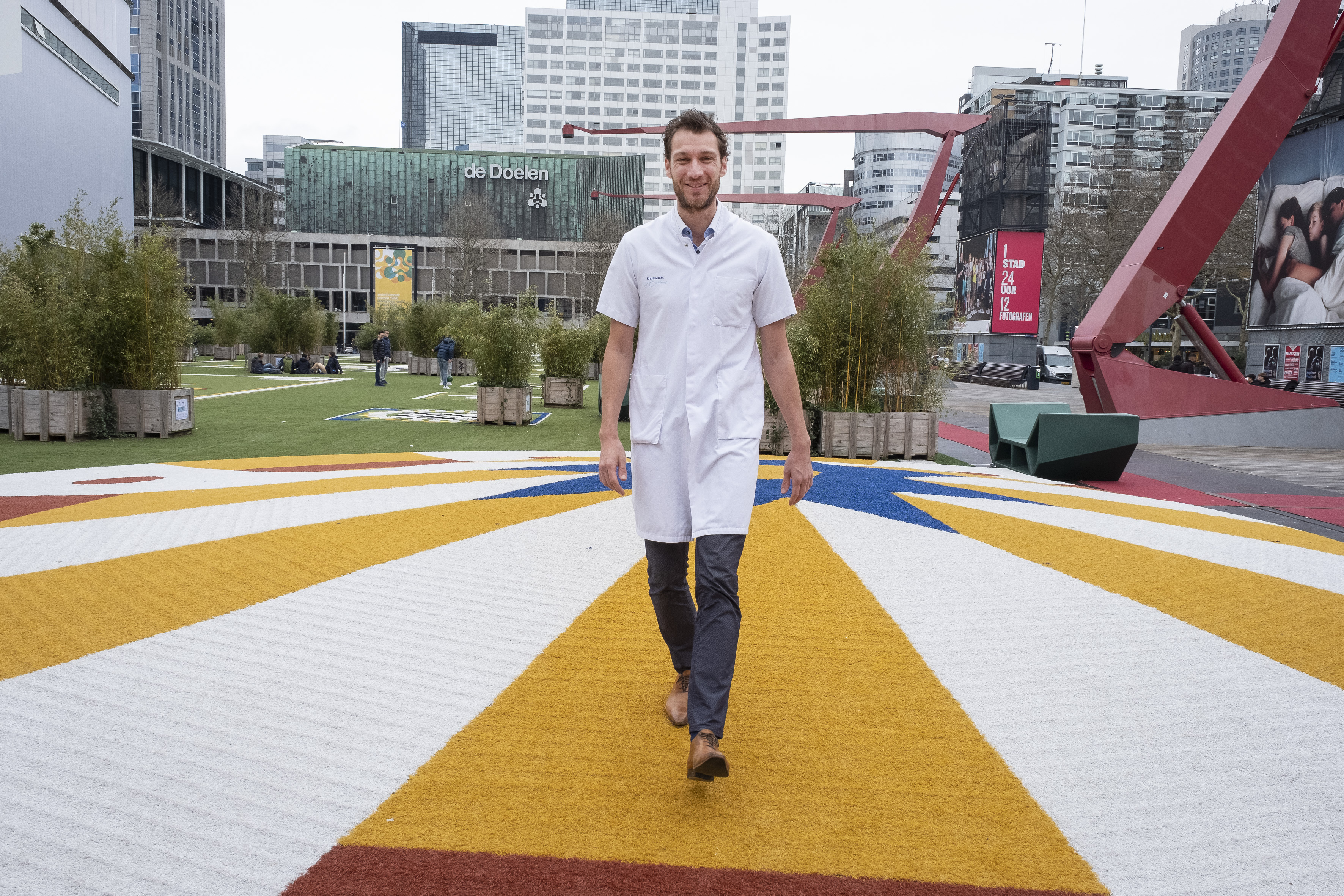 Sports physician Robert-Jan de Vos. Photographer: Levien Willemse[/caption] Dr. Robert-Jan de Vos was among the sports physicians in attendance. Nearly half of all sports injuries are due to tendon problems, and the chronic Achilles-tendon injury is particularly notorious. De Vos is busy devising a new study aimed at the prevention of chronic Achilles-tendon injuries. The sports physician has established that optimum treatment specifically for these chronic issues is not yet available: 'Our latest study has shown that over 60% of runners afflicted by a new Achilles tendon injury will still be suffering from persistent symptoms after one year. At the moment we know very little about the initial injuries and fail to understand why one patient will recover whereas another will develop chronic symptoms. Once we have improved insight we will, in future, be better able to inform the runners involved with a view to avoiding chronic problems'. De Vos feels that the participation of athletes and sports organisations like Atletiekunie, PAC and Galazo is essential to the setting-up and execution of the study. He contacts the runners, provides information, and collects valuable feedback. One hundred and fifty people with and without an Achilles tendon injury will be examined within this prevention-oriented study. Why are people without an injury included? De Vos explains: 'An analysis of participants without any injury provides us with information about the structure and condition of tendons under normal circumstances'. If all goes well, the study will begin at the end of this year. De Vos intends to set up a platform based on the results and providing reliable information about injuries and ways to prevent them, including advice about training schedules and footwear. If you would like to know more about the study, check out the vlog below, or read more
here
...
Running for scholarships
Students, scientists and staff will be joining in the
Erasmus Charity Run
organised by
Erasmus University
. The Erasmus Charity Run is a special event within the official Rotterdam Marathon, and the runners will be raising money for scholarships. By joining the Erasmus Charity Run, the runners will help to ensure that students with insufficient financial means are nevertheless able to study at Erasmus University Rotterdam. The University will celebrate its 105
th
anniversary this year, which is why the participants are going all out for an impressive total yield. The University's Executive Board are proud of the runners: 'The Erasmus Charity Run unites students and alumni, staff and faculties, and reinforces our feeling of togetherness – the Erasmus University community'.
One thing is certain; We're Running This City Together. Rotterdam Make It Happen!
[caption id="" align="alignnone" width="802"]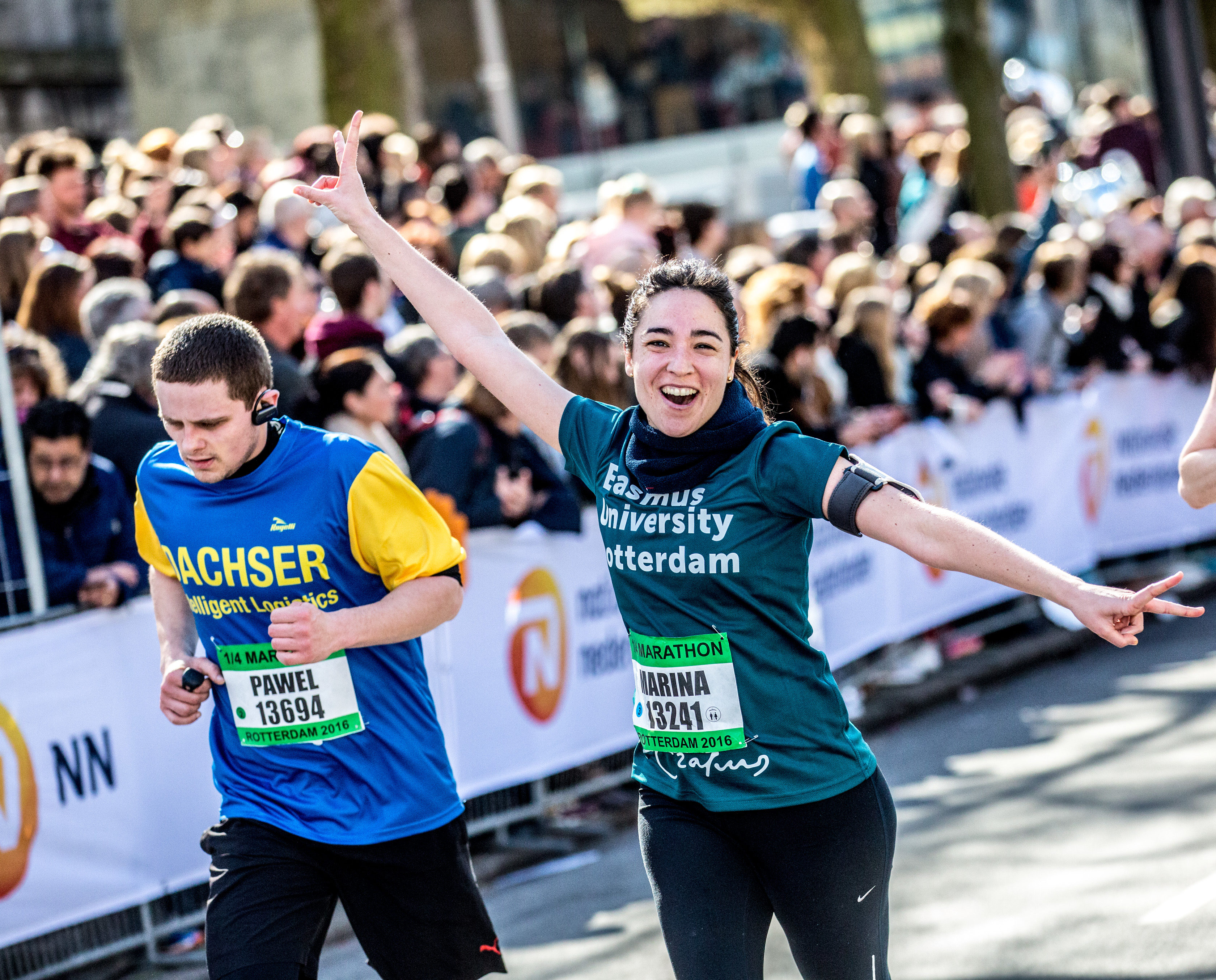 Photograph: Capital Images[/caption]