Air quality in Rotterdam must be improved, and by 2030 the City Council wants CO2 emissions to be half those of 1990. The municipality of Rotterdam and the RET public transport company are taking the lead in this objective, and as early as this year the first electric buses and refuse trucks will be driving around town.
170 kilometres
A refuse truck that emits no CO2 and makes far less noise into the bargain; on Wednesday the 29th of May, the city of Rotterdam commissioned its first electric refuse truck. As well as this newly commissioned truck, there are two hybrid dustcarts. 'Not only will we reduce CO2 emissions by deploying these electric refuse trucks, but we will be helping to improve air quality at the same time', says alderman Arno Bonte. Two more electric refuse trucks will be joining the fleet in the second half of 2019, and Rotterdam wants all of the city's own vehicles to be environmentally neutral by 2030.The municipality currently has 162 electric and 244 hybrid passenger vehicles operational in the city.
The new truck is 100% electrically powered and has been extensively tested since April. It has a range of approximately 170 kilometres with a fully charged battery; on average, refuse trucks in Rotterdam cover a distance of about 80 kilometres per day. It takes about four hours to fully charge the electric vehicle, and this will take place at charging points installed at the Kleinpolderplein premises. The realisation of the charging points alone took more than six months; special underground cables had to be laid, while some dramatic modifications were required in the transformer station, among other things.
Experiment and learn
For the time being, the electric refuse trucks are an experiment. It is not yet possible for refuse collection to operate with only electric trucks, since a much more comprehensive charging system would be required. The City Council are therefore also considering other green fuels such as hydrogen. The national climate agreement describes hydrogen as an energy carrier that could be suitable in the longer term to replace natural gas for heating or petrol in cars, for example. A number of research and pilot projects are currently running in the Netherlands for this purpose.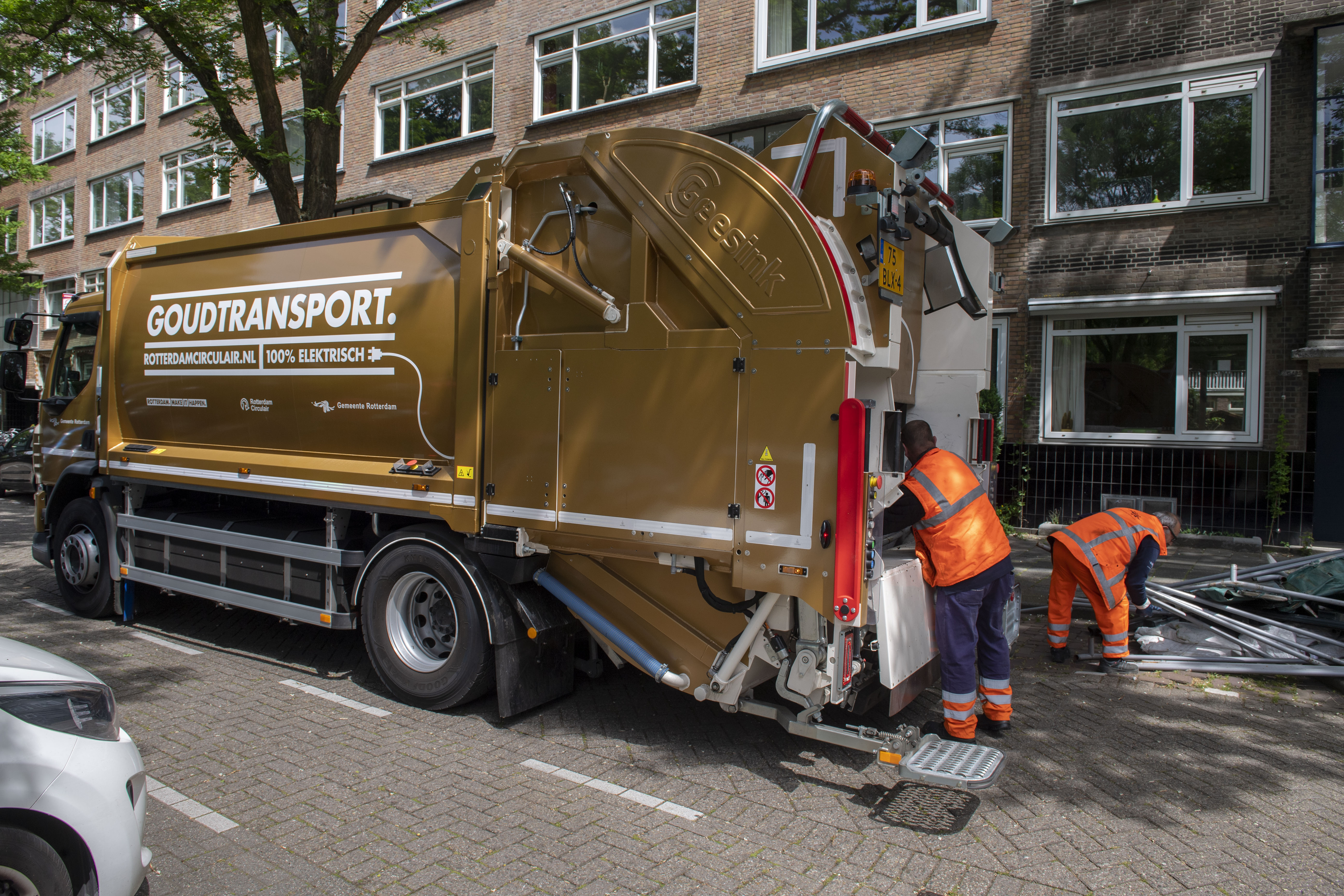 Electric on the road
The RET public transport company is also fully committed to a cleaner vehicle fleet. As of mid-December 2019, 55 electric buses will be serving the public in the region. The buses will be charged overnight and topped up during the day for 15 to 20 minutes using quick-charge installations. The RET has also purchased 103 fully hybrid buses, which are up to 40% more energy efficient than the current buses. The RET plans to replace all diesel buses with electric buses before 2030.
The electric buses of the RET are not only better for the environment; they are also significantly less noisy, making them more comfortable for travellers. The electric buses will be operating on lines 32, 33, 38, 44 and 56. For road safety, a system has been built in which the bus makes a noise if it runs below 20 kilometers per hour. This is to prevent pedestrians and cyclists from being surprised because they do not hear an approaching vehicle coming. The 55 buses will leave the Kleiweg premises every morning with a fully charged battery and are topped up throughout the day at several hubs and final destinations.
Sustainable steps
RET is also taking other steps towards sustainability. Solar panels were installed at the Slinge, Rijnhaven, Zuidplein and Maashaven metro stations in 2018, and in June of this year the public transport company put an invitation out to tender in an attempt to find an energy supplier in the Netherlands who can realise an additional generating capacity of 120 million kWh per year. This is equivalent to the consumption of 40,000 households. The envisaged 10 year contract will include providing the electricity to be used by RET, as well as installing solar panels on more of their buildings.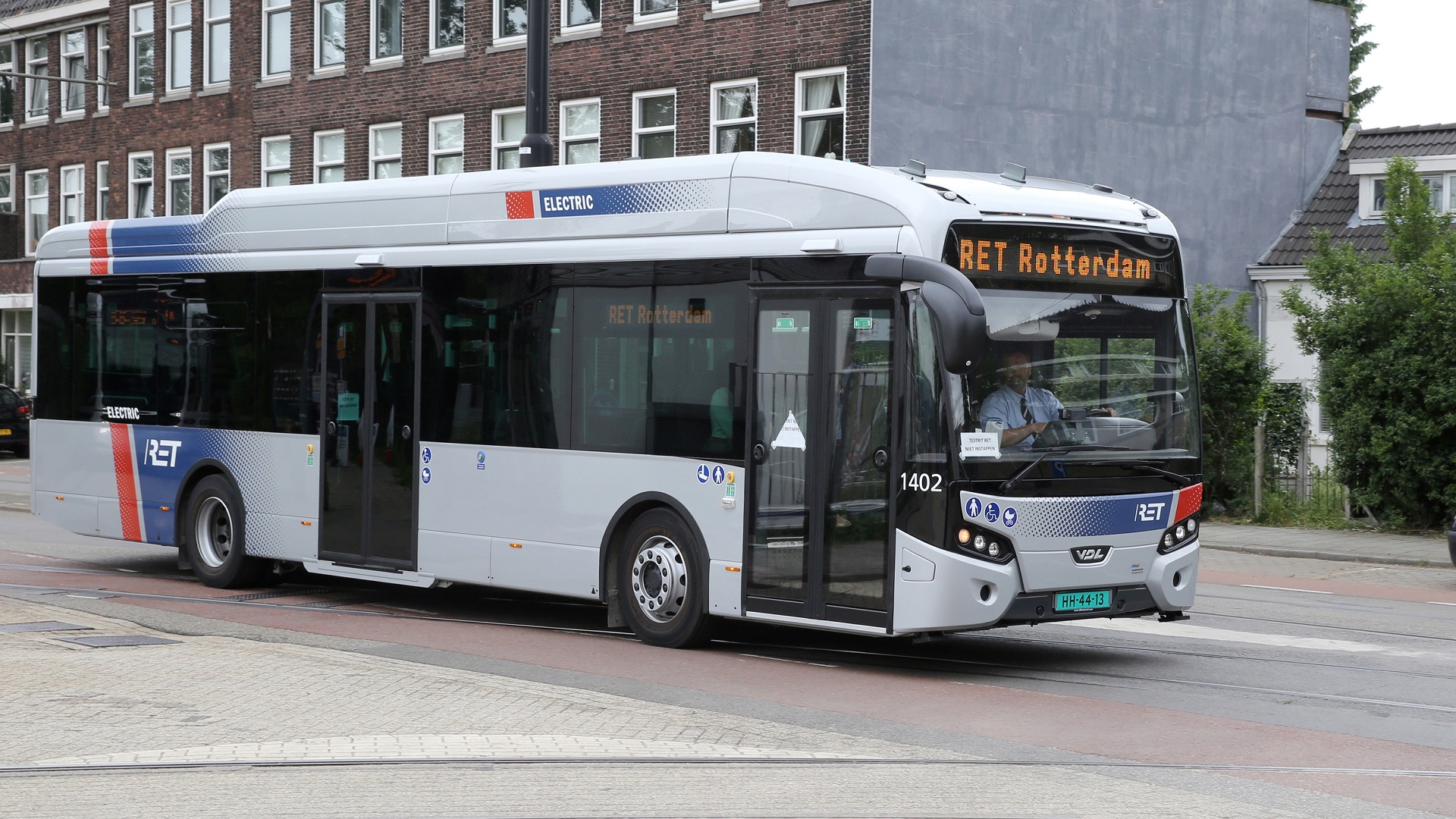 Electric driving is cool

The best thing is of course to keep your car nice and tidy. In the Hoogkwartier district of Rotterdam this spring a special initiative was started in which residents are encouraged to leave their cars as far as possible. During the so-called Mobility Challenge, they are challenged to use partial transport such as electric cars, bicycles, cargo bikes and public transport for two months. Would you dare?
A cleaner city
Rotterdam is working its way towards being an energy-efficient, circular city with clean air. The city's objective is to halve 1990 CO2 emissions by 2030. The City Council is committed to a sustainable and energy-efficient city of Rotterdam. This is a major challenge for the city as a whole. Read more on the page New energy new economy and clean air and on the website Rotterdam Circular.
Header photo: Jan van der Ploeg