Esports not a 'real' sport? Millions of players from around the world could put that idea to rest within a couple of seconds. The esports industry is booming, also in Rotterdam! 14th through 20th October 2019 saw a huge, international esports and gaming event hit the city: Rotterdam Games Week.
ROTTERDAM AHOY ❤ GAMING!
Rotterdam Ahoy is the organiser of the Rotterdam Games Week and for this reason has entered into a multi-year collaborative alliance with the Swedish DreamHack, worldwide the top player in esports tournaments, LAN parties and gaming expos. In 2016 Rotterdam Ahoy already hosted a sold-out European finale of the game League of Legends. This event spawned the multi-purpose arena's first esports and gaming event of its own. Rotterdam Ahoy also has long-term plans and the ambition to organise an annual international esports and gaming event in the city of Rotterdam.
THE BIRTH OF ERASMUS ESPORTS
And that just happens to be exactly what the Rotterdam esports climate needs, says Jan Smeets, president of Erasmus Esports. Jan is doing a Master's in Marketing Management at Erasmus University Rotterdam (EUR) and became a member of Erasmus Esports soon after the student sports association was founded, about three years ago. Jan: 'Erasmus Esports was founded by a group of four enthusiastic EUR students who were inspired by the 'Dutch College League'. In this league, which was broadcast on television by Fox Sports, groups of students from different universities vied against one another. The EUR students realised that Rotterdam was not yet represented and discovered that if they wanted to participate they would actually need to set up an association themselves. No sooner said than done. With some assistance from Erasmus Sports, they set up the association and found a location.'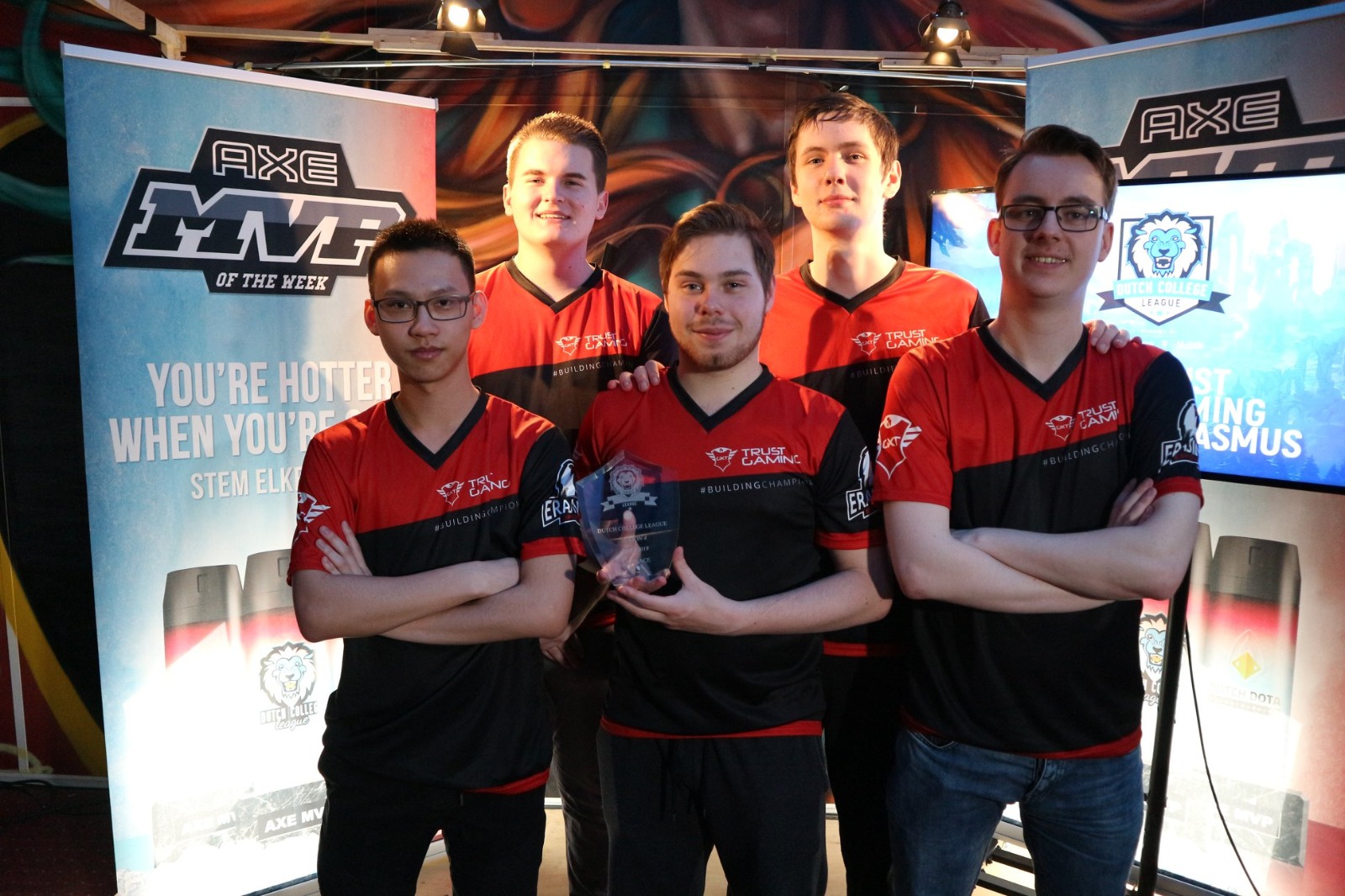 INCREASING AWARENESS
After founding the association, the students got hard to work convincing fellow students to join Erasmus Esports. Jan: 'Our mission, one we share with all sister associations, is to raise awareness of esports in the Netherlands. Esports in the Netherlands is rather small if you compare it with the esports climate in other countries. We think it has huge potential and we want to offer a place and platform to like-minded gamers. We want to do this for the Rotterdam region.'
ESPORTS VERSUS 'REGULAR' SPORTS
In convincing fellow students, it is useful to explain what esports exactly entail and how it stacks up against any other 'normal sport'. Jan: 'The term esports stands for Electronic Sports and it covers any videogame that can be played in a competitive setting. Even Tetris can be seen as an esport just as long as there is a competitive element. Of course, there is always the question of what can be called a sport in the first place. Obviously, esports require a different kind of effort from players than sports centred on physical performance. Nevertheless, 'normal' sports and esports have much in common. They both have a competitive element and they both attract spectators. A crowd of spectators go a stadium or arena to see their favourite club play. It doesn't matter whether they go to watch a video game or football. Fun fact: serious efforts are underway to make esports an Olympic Sport.'
THE ROTTERDAMS ESPORTS CLIMATE
In three years Erasmus Esports has recruited more than 80 international and Dutch students who train at the association's location each week and participate in competitions. This is thanks to the association's founders enticing fellow students during events such as the Eurekaweek, but also because esports has risen on the agenda in Rotterdam.
Jan: 'The esports climate has improved in the past few years, thanks in part to the efforts of alderman Sven de Lange. It's true, however, that we were late getting our esports association started. A number of other Dutch cities got there ahead of us. But we rolled up our sleeves and now we are one of the fastest growing associations in the country. We need this because Rotterdam is an innovative and modern city and esports is a logical part of that. So, we are happy that events like the Rotterdam Games Week are being organised here. This kind of event puts us just that little bit ahead of other cities in the Benelux and it can attract other similar events, all of which only can only enhance Rotterdam's esports climate.'
THE ROTTERDAMSE DREAM
Jan's ultimate dream is for Rotterdam to have enough esports venues in the future as, unfortunately, there are still too few of them. He'd like to see a general esports association that attracts not only students but also people from outside the university. Getting players to play at a physical location is crucial, according to Jan. 'Just like with regular sports, it's important that people feel a social connection with other players and fans.'
Esports not a 'real' sport? In modern and innovative Rotterdam, home to motivated and ambitious students and host city of events like the Rotterdam Games Week, we are working hard to put an end to that distinction!